Established in 2014, the Berkshire-Taconic Regional Conservation Partnership (BTRCP) was formed to secure grants to conserve and protect the natural and scenic landscapes throughout Eastern New York, Southwest Vermont, and the Berkshires of Western Massachusetts and Northwestern Connecticut. Made up of 17 nonprofit and private conservation groups and public agencies, the RCP has collaboratively accessed $6.2M in federal funding to protect and steward critically important lands in the region.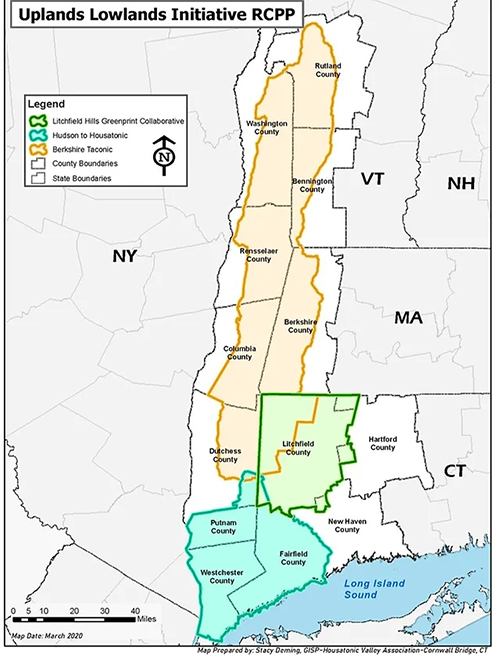 At the 2019 RCP Network Gathering in Amherst, Massachusetts, the Berkshire-Taconic RCP learned of an opportunity to apply for a major award from the USDA's Natural Resources Conservation Service Regional Conservation Partnership Program (RCPP). Bill Labich, senior conservationist at Highstead, had a goal of applying for an RCPP award, as he saw the potential synergies and connections that could be made from several RCPs working together. During a fortuitous elevator ride with Jim Bonesteel, executive director of the Rensselaer Plateau Alliance (RPA), a partner organization within the Berkshire-Taconic RCP, Bill pitched the idea to Jim, as he thought the RPA would be up to the task of taking the lead on such a large project. Jim recognized how great of an opportunity it was and envisioned a collaborative and creative path for the award, he said. The RCPP grant program would allow them to bring together the expertise of farmers, ranchers, landowners, conservation and farm organizations, and state and local agencies to conserve water, farmland, wildlife habitat, soil, and other natural resources. Alana Gerus, conservation project manager at Rensselaer Plateau Alliance, embraced the project's purpose. "It really felt like a new and ambitious adventure for RPA," she said. "We had a desire to bring together RCPs that shared not only a common geographic region but also a common goal." After getting the green light from RPA's board, Jim and the RPA team began collaborating with land trusts from three RCPs: Berkshire-Taconic, Hudson to Housatonic (H2H), and Litchfield Hills Greenprint Collaborative (LHGC). With natural resource protection, climate resilience, and protecting human and wildlife communities at the forefront of their efforts, the working group of RCPs began asking questions like: How can we purposefully bring together RCPs in the region to conserve the land we share? How can we support landowners, farmers, and ranchers working to conserve water, soil, and wildlife habitat while empowering them to do so in a way that increases climate resilience? After a few months of discussions and deliberation, the Uplands to Lowlands Climate-Resilient Cores and Connectors Project (Uplands to Lowlands) was born.
As noted in the project proposal, the 4,046,000 acres of forest corridor covered by Uplands to Lowlands are among the most important remaining north-south linkages in the Northeastern U.S. As the most intact, connected forests linking southern states to New England and New York, its southernmost extent covers the coastal plain of southern Connecticut and southeastern New York and continues north to the Hudson Highlands of New York and Litchfield Hills in Northwest Connecticut, through the Taconics in eastern New York and western Massachusetts and up through the Berkshires to southwestern Vermont. The mountainous corridor connects the mid-Atlantic states to northern New York and New England. Being one of the most densely populated regions in the U.S., the RCPs recognized the urgency to mitigate habitat fragmentation, watershed impairment, and groundwater contamination through the Uplands to Lowlands. With the help of conservation easements, the initiative's partners propose protecting forested uplands and farmlands from development to mitigate further climate impact. Throughout Massachusetts, Connecticut, and New York, the initiative will use riparian buffer restoration, pollinator pathways, and other land management projects to help conserve and protect the region's biodiversity; the project also aims to improve forest connectivity, sequester carbon, and support the goals of "30×30." As a result of its collaborative work and compelling nature, Uplands to Lowlands was awarded the $6.2 million RCPP grant in 2021. As one of the first Regional Conservation Partnership Programs conducted in the state of New York, this was a big win for RPA, BTRCP, and the RCP Network. Through Uplands to Lowlands, 10 Northeast land trusts within BTRCP, H2H, and LHGC will have access to $6,239,091 for five years, through 2026.
The project is expected to create new opportunities for community members interested in land conservation, especially for forests, said Arianna Ferrario, Stewardship & Regional Partnership coordinator for Columbia Land Conservancy, host organization for BTRPC. "I've seen a lot of funding for farmland programs and farmland protection but not a lot for forest land protection. This is a new thing that will be really good for protecting forest land as well," she said. The partners are in the early stages of using RCPP funds to purchase conservation easements for several properties within the Uplands to Lowlands project area.
When asked about what advice she would give to RCPs wanting to apply for RCPP grants or other grants that involve a lot of collaboration, Gerus spoke to the importance of teamwork and dedication. "Organize a group of individuals that are passionate about the work and are willing to put in the time and effort it takes to make the project succeed. RCPP awards take a lot of time and patience, but it really is a great program that allows for collaboration between environmental organizations and land owners on a regional level."
Through the RCPP, the Natural Resource Conservation Service seeks to co-invest with partners to implement projects demonstrating innovative solutions to conservation challenges and providing measurable improvements. The outcomes should be tied to the resource concerns they seek to address, such as water and wildlife. To learn more about applying for an RCPP grant, visit the NRCS RCPP webpage.