Registration is now open for the 2020 RCP Network Gathering, the annual event that brings a wide range of conservation professionals together with people from other sectors to learn, network, brainstorm and plan.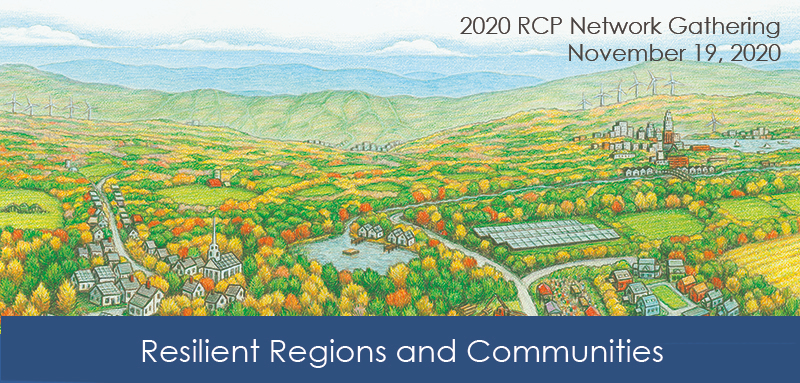 With a focus on resilient regions and communities, the 2020 Gathering now features three, 90-minute Webinars followed by a one-day Gathering. New features this year include a special Conservation Finance Workshop and the first-ever Wildlands & Woodlands, Farmlands & Communities Implementation Day.
The Webinars – Oct. 28, Nov. 5, and Nov. 13
The webinars on Oct. 28, Nov. 5, and Nov. 13 from 1:00-2:30 pm will feature small, moderated panels who will share how they've helped landowners and municipalities strengthen their lands' and communities' resilience in the face of economic insecurities and uncertainty, social divisiveness and injustice, and the impacts of climate change. Plus, you can learn about ways RCPs and others can support farmland and food security in urban to rural communities.
The Conservation Finance webinar in February 2021 will provide a review of the most applicable conservation finance strategies and mechanisms for RCPs, the RCP Network, and regional partners to consider using in the coming years to advance their broadened landscape conservation visions.
The Gathering – Nov. 19, 2020
The Nov. 19, 2020, RCP Network Gathering will feature in-depth discussions among speakers, moderators, and audience members.
Two keynote panels will focus on solutions at multiple scales from federal, state, region, and municipal, to parcels of land owned by individuals and families.
The speakers and moderators will provide framing for the issues and serve as catalysts for breakout groups that will further explore viable solutions and contribute to the dialogue.
A "final word" speaker and next steps will point people to the future, including the February 2021 Conservation Finance webinar, which will lay out the most useful methods and sources of funding.
Implementation Day – March 3, 2021
The Implementation Day on March 3, 2021, will bring RCP Network Gathering participants back together to build on the ideas generated at the webinars and the Gathering and translate them into action. The program will focus on prioritizing the actions networks will take in the next three years to help improve the resilience of their communities and regions.