When people with different skills and experiences approach collaboration with a willingness to listen and learn, farmland conservation work can benefit migrant and immigrant farm workers from a variety of cultures. This is the conclusion Mark Wamsley, who manages the Forever Farmland Initiative (FFI), a Regional Conservation Partnership (RCP), has come to as he is nearing the end of a long project that he hopes has a bright future. Coordinated by Kestrel Land Trust, FFI was established in 2009 with a mission to accelerate the pace of farmland conservation in Western Masssachusett's Connecticut River Valley. The partnership has since expanded its work into improving access to farmland for farmers, increasing the region's food security, and partnering with migrant, immigrant, and refugee farming communities.
"Many of the farmers had previously worked on high-end, local, organic farms, but they weren't able to afford the crops they worked so hard to produce." – Mark Wamsley, Forever Farmland Initiative manager
Starting in 2017, representatives from All Farmers, an organization founded with a goal to provide land, training, and representation for refugee and immigrant farmers, began attending FFI meetings. All Farmers works with farmers from various African and Asian countries like Somalia, Kenya, Bhutan, and Vietnam, and wanted to find points of synergy with the land trust community. As she attended the meetings, Hannah Spare, executive director of All Farmers, noted that land trusts were skilled in land transactions and searching for and conserving farmland. Realizing these were essential services that could help secure land for the farmers they represented, All Farmers began a working relationship with FFI. This newly formed partnership challenged FFI to shift its perspective and look at land and collaboration in new ways. They reached out to new communities, connected with local colleges to enlist GIS-mapping students in helping with land searches, and more. Initially, FFI had trouble finding and securing the type of property All Farmers needed in suitable locations, but the setbacks allowed the two groups to look at a number of other properties they hadn't previously considered.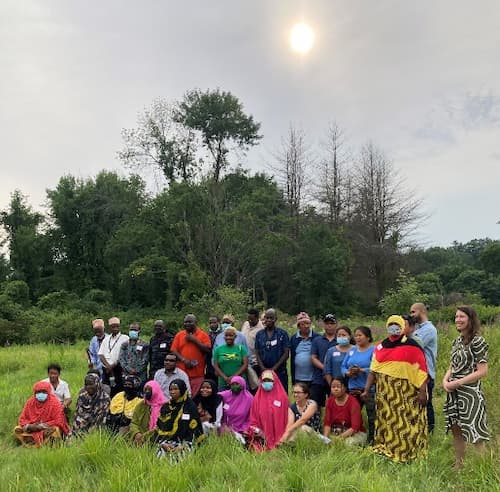 They first succeeded in securing the Dewey Street Property in West Springfield, seven acres of farmland located on a bus line. Though it was small, had some wetlands, and was certainly not the "end-all-be-all" land All Farmers was looking for, Spare realized the land was easily accessible, fairly secluded, primed for small family garden plots, and could be ideal for meeting the needs of some of the farmers. The funds needed to purchase the land were secured when a representative from Eversource Energy reached out to Wamsley to inquire about a mitigation project. Eversource was looking to conserve property with wetlands, and Wamsley informed the representative about All Farmers and the Dewey Street Property. After several conversations between Wamsley and Eversource, the company offered All Farmers the funding needed to acquire and conserve the property. Following this success, FFI and All Farmers were also able to find the type of prime property they had originally set out to secure in a nearby town. Though initially not for sale, persistence brought progress, and they are hoping to close on the land by Summer 2023.
Wamsley attributed the evolution of the relationship between Kestrel Land Trust and All Farmers – which was forged through FFI – to putting in the effort. "It's taken a lot of persistence, a lot of hours, a lot of collaboration, and a lot of learning," he said. Overall, the land trust movement has not equitably and appropriately served urban communities whose landscape and policies can be vastly different from the more suburban and rural communities that many are used to working with, he said.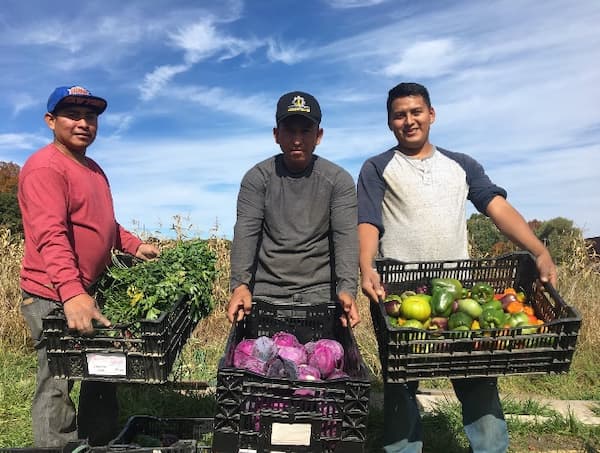 During the early stages of their partnership with All Farmers, Kestrel had the opportunity to collaborate with another organization that had similar goals. The land trust was fortunate to acquire a small piece of farmland in Hatfield, Massachusetts through a donation. Hoping to secure land for the food industry and migrant farm workers they serviced, a representative from Pioneer Valley Workers Center (PVWC) reached out to FFI and inquired about the land. PVWC's mission involves building community and affecting real change in the lives of low-wage and immigrant workers, primarily from Mexico and countries throughout Central America. The organization leased the farmland through Kestrel, which helped them license an adjacent city-owned parcel in Northampton, and together with a group of farmers, called Riquezas del Campo, developed La Colmena Community Farm. This community farm, consisting of a farm co-op, community garden, and more, is used by PVWC to grow more than 30 types of culturally appropriate vegetables, berries, flowers, and perennial native plants. While building a relationship with PVWC, one of the main benefits that stood out to Wamsley was equity and accessibility.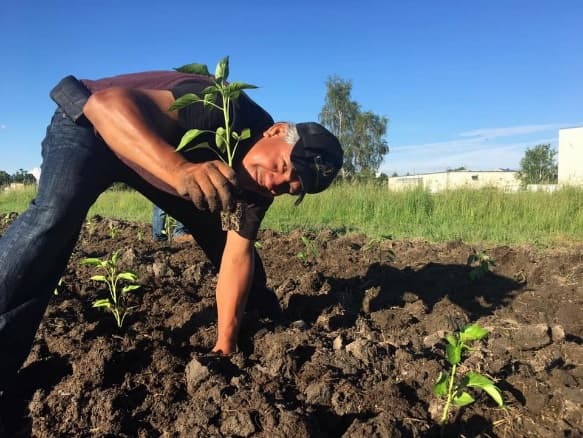 "Many of the farmers had previously worked on high-end, local, organic farms, but they weren't able to afford the crops they worked so hard to produce," he said. "So having their own farmland where they could grow and harvest their own crops was critical." With access to this property, at least 20 families will be able to grow the majority of their family's vegetables for the whole year. As the organization has grown in capacity, Riquezas del Campo is now looking ahead to its own, sustainable future on the land and has begun negotiating to take over as the farm's lease holder.
Partnering with PVWC, All Farmers, and the diverse communities they serve has been a valuable learning process, Wamsley said. "We are constantly faced with the question of, 'What are the different needs and abilities of the communities we're working with?' Some have cars; some don't. Some are happy to drive 45 minutes to farmland; others don't have that type of time available. Some want to grow food to feed themselves and their families; others want to grow a business and build equity," he said. "There are differences in languages, cultures, perspectives, and goals, and we're learning what it looks like to take time and learn about the communities we're serving so we can all do the best work possible."
While partnering to improve food and farmland security for these communities is still a fairly new endeavor for FFI, Wamsley's humble advice to RCPs interested in land justice work is to make sure your meetings are welcoming before you reach out. "RCPs provide a great forum for people and groups with a variety of interests to come together, but don't expect everyone to come to you. Find groups and communities you think could benefit and see if they're willing to start engaging in conversations with you. Work on pursuing and building those relationships, with listening playing an important role," he said. "Once you begin understanding the needs and goals of different communities, which is a process, it enables RCPs to begin assessing where common ground exists and how their technical assistance can prove useful."