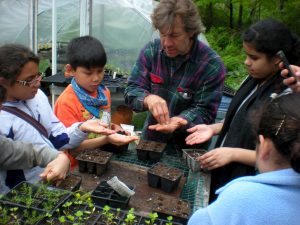 COVID-19 seems like its impacting the entire planet these days, but a recent report found that people of color, families with children, and low-income communities are most likely to be deprived of the benefits that nature provides, including for their health. The study by Conservation Science Partners and commissioned by the Hispanic Access Foundation and the Center for American Progress, "The Nature Gap: Confronting Racial and Economic Disparities in the Destruction and Protection of Nature in America," clearly outlined the health disparities experienced in communities with little access to green spaces.
The result of systemic racism going back centuries, communities of color in America are almost three times more likely than white communities to live in "nature deprived" areas. Nature deprived areas have less or no access to parks, paths, and green spaces. In Connecticut, Rhode Island, and Massachusetts, well over 90 percent of people of color live in heavily modified, nature-poor neighborhoods. Less than 15 percent of primarily white communities are so heavily nature deprived.
People living in nature-deprived neighborhoods are more likely to experience pollution from transportation, energy development and other industrial uses. Reduced health follows close behind. For example, residents of Black neighborhoods across the country breathe, on average, about 20 percent more harmful particles than residents of white communities do. And they contribute less to pollution – as they are less likely to drive, consume goods or take other actions that contribute to air pollution. Their lungs absorb a "pollution burden" far disproportionate to their impact on the planet. And, just a tiny rise in the amount of pollution increased the likelihood of dying from COVID-19 by 8 percent, another study noted. Others have estimated even stronger effects.
These sobering, heart-breaking statistics, made more so by the expanding pandemic, strengthen our resolve to work toward ridding racism from our own thinking, behaviors, activities, and organizations and using every opportunity to listen to, learn from, and work with partners in all communities, especially those that are currently nature-deprived.
In September 2020, the Northeast Forest Network, coordinated by Highstead Foundation, will be launching their Stand Up for Forests campaign and distributing their pilot messaging tool kit, Forests Make Us Healthier. Network members will be asked to share the kit with their constituencies asking them to amplify the message, support local conservation organizations, and vote for environmental candidates. The tool kit includes a fact sheet, social media resources, email templates, infographics, an image library, and a knowledge base with fact sheet references.
Northeast Forest Network's ultimate goal is to increase investments in forest conservation for all communities, and to raisieawareness of the value of forests to people and nature.
Authors of the Nature Gap report recommend that we collectively seek to protect 30% of America as natural open space by 2030, which we believe is an exciting goal. We concur with its authors that more of these open spaces need to be located within and be accessible and welcoming to nature-deprived residents, and we will work with our partners and our communities to champion these efforts.
Please contact me if you wish to learn more and join us in standing up for forests and the communities that need them most.