Today's urgent conservation issues require a collaborative approach to create sustainable solutions at a meaningful scale. Through an active and growing network of partners, Highstead is able to harness, leverage, and build significant capacity for conservation initiatives throughout the region. We work with great intention to connect people, science, and financial resources across political and philosophical boundaries, focused on advancing individual and shared goals that roll up to a collective vision for the well-being of nature and society.
The Benefit of Time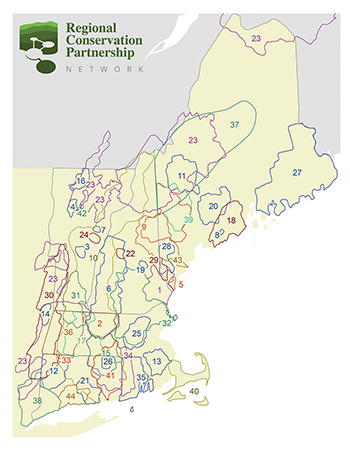 We are in the rare position of simultaneously working on long-term, region-wide strategies and time-sensitive, local-scale initiatives. This duality is possible because of the many strong relationships we've cultivated over time and our unique vantage point that helps us see opportunities for bringing complementary resources together to realize greater objectives.
The Power of Collaboration
Highstead's conservationists collaborate with a wide range of partners on scientific research and on-the-ground initiatives to create broader impacts for the communities we serve. We help to:
Aggregate funding from public and private sources for land planning and protection, and stewardship

Engage a broad spectrum of individuals and organizations from social, economic, and environmental sectors around conservation-focused objectives
Partnerships are essential to building capacity for land conservation in New England and beyond. Learn how you can get involved.