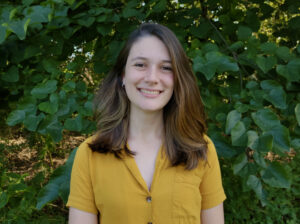 As a Conservation Communications and Events Associate at Highstead, Fiona is working to help improve engagement and communications for partners within the RCP Network; provide support for the new Wildlands, Woodlands, Farmlands & Communities website; and organize events. 
Fiona received her BA in Environmental Studies from Vassar College and recently graduated with her MSc in Ecology from Penn State, where she focused on improving data integration techniques for avian species distribution models. She has previously worked for other environmental-type organizations in the Western CT region, such as Harbor Watch in Westport, the Woodcock Nature Center in Wilton, and Jones Family Farms in Shelton. After spending time doing academic research, she is now interested in working towards some of her other conservation-related values– science communication, advocacy, policy, and justice.
Outside of work, Fiona enjoys cooking, baking, skiing, and taking long walks or hikes through any green space she can find. Her work at Highstead is motivated by a desire to bridge the gap between scientific research and the values, action, and justice it is meant to inform.