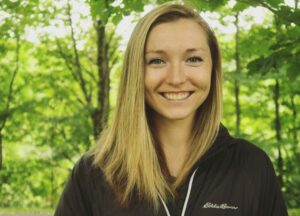 Jenni is the fall 2021 conservation GIS intern and is helping Highstead and its partners design maps that meet a variety of conservation-related goals. Along with the RCP Meeting Story Map and GIS updates for the H2H RCP Network, Jenni is creating an eBird-based mapping tool for land managers through the Northeast Bird Habitat Conservation Initiative. 
Jenni received her MSc from the University of Michigan School for Environment and Sustainability, focusing on the relationship between declining Black Tern populations, nesting success, climate change, and anthropogenic stressors. She is passionate about answering conservation questions through field-based data collection and applied geospatial analysis. Jenni has also worked with a variety of other species and ecosystems, such as songbirds in Ohio, rare plants in the Florida scrub, sand dunes in Michigan, and briefly with Hector's dolphins in New Zealand.
Outside of work, Jenni connects with nature paddleboarding or kayaking, drawing wildlife, hiking with her dog, volunteering with bird banding, and working on her bird ID skills.
"My work at Highstead is motivated by my desire to help the incredible network of partners to make coordinated management decisions, backed by the amazing array of landscape-level data we are just beginning to have access to."