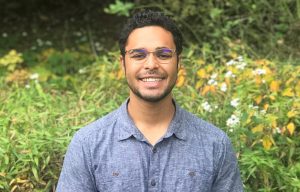 As the fall 2020 Conservation Communications and Events intern, Marc's responsibilities include creating materials and planning for the RCP Network Gathering, writing emails, announcements, and blog posts for Highstead and other Network partners, and coming up with new ways to encourage RCP community connectedness despite social distancing.
Marc is currently taking time off undergraduate study at Yale University. He will return next fall to complete a B.S. in ecology and evolutionary biology. Interested in the history of natural science, he's currently planning a senior research project studying African contributions to botanical and agricultural knowledge in the Americas. With a background in editing for The Yale Herald and illustrating for the Yale Daily News, Marc is excited to combine written communication with his love for natural science at Highstead, contributing to their mission to foster collaborative conservation.
Outside of work, Marc enjoys walking in the parks of New Haven, identifying New England plants and insects using the iNaturalist app.