On February 24, from 9 am – 1 pm EST, join the New England Conservation Finance Roundtable, co-hosted by Highstead Foundation and The Conservation Finance Network.
Join leaders from NGOs, companies, foundations, and public agencies as they share their ideas and innovations for increasing private and public investment in conservation across the region and for driving support for a more equitable future.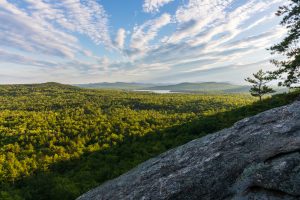 The Conservation Finance Roundtable will feature three virtual sessions, each exploring the benefits of investing in conservation. The sessions will focus on:
Natural climate solutions
Human and community health
Water infrastructure
Don't Miss: Virtual Meet and Greet February 23, 5-6 pm
All registrants are welcome – Check the box on the
Registration Form
Join the Conservation Finance Roundtable to:
Hear new ideas and lessons from change-makers
Form new collaborations outside your existing networks
Listen to funders' thoughts on stimulating lasting impact
Deepen your understanding of the connections between environmental and social uplift
Highstead is committed to advancing understanding of conservation finance through publications, events and research.
Session 1: Clean Water Investments
Learn how innovative partnerships among communities, land owners, utilities and conservation groups are delivering clean water and positive environmental outcomes.
Panel led by: Hadley Couraud, Conservation Coordinator, Sebago Clean Waters
Panelists:
David Kane, Executive Director of Administration, Portland Water District
Ashley Allen Jones, Founder and CEO, i2 Capital, member Revolving Water Fund
Celia Riechel, Project Developer, Water Investment at Vermont Department of Environmental Conservation
Session 2: Natural Climate Solutions
From science to implementation: exploring case studies in scaling up forest-carbon initiatives across sectors.
Panel led by: Kavita Kapur Macleod, Principal, KKM Environmental Consulting
Panelists:
Sacha Spector, Program Director for the Environment, Doris Duke Charitable Foundation
Josh Parrish, Director, American Forest Carbon Initiative, The Nature Conservancy
Karen Watts, Principal Product Manager, Worldwide Sustainability, Amazon
Session 3: Healthy People and Communities
A closer look at how partnerships between housing, healthcare and open space can lead to healthier people and more vibrant communities.
Panel led by: Sean Thackurdeen, Program Associate, Doris Duke Charitable Foundation
Panelists:
Bobby Cochran, Partner, Willamette Partnership
Lori Coyner, State Medicaid Director, Oregon
Maggie Church, Vice President, Healthy and Resilient Communities, Conservation Law Foundation
Shante Hanks, Deputy Commissioner, Connecticut Department of Housing