Land throughout the Northeast provides vital resources each day— clean air and drinking water, access to local food and wood products, as well as outdoor spaces for recreation and respite. Our forests store vast amounts of carbon, helping to slow the inevitable impact of climate change on our communities. And, our cities and towns provide us with places to build our lives, our families, our workplaces, and our homes. In short, land has tremendous value and it requires both public and private support to ensure its protection and stewardship. That's where conservation finance comes in.
The Price of Priceless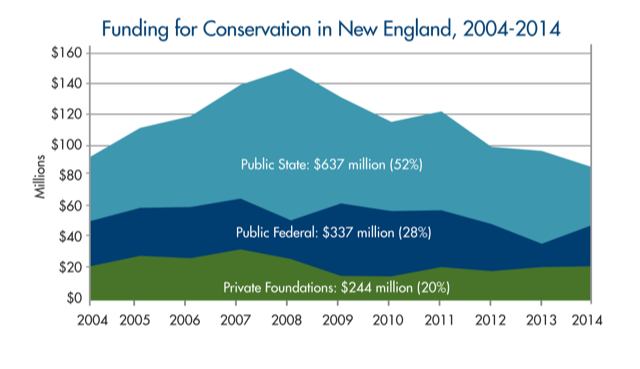 Public funding for land conservation has decreased by nearly 50% since 2008, and private foundation giving now contributes up to 30% of all conservation funding, making it more critical than ever. To reach the Wildlands & Woodlands goal of conserving 70 percent of the New England landscape requires new local, state, and federal policies, as well as new approaches to private investment, that will help finance the conservation of our forests and farms to ensure we can rely on them forever.
Funding the Future
In 2016, Highstead committed to a new Conservation Finance Program to support the advancement of the land conservation goals outlined in the Wildlands & Woodlands vision by stimulating new and innovative approaches to funding and inspiring strong financial support from a broad spectrum of sources.
We are continually incubating new partnerships that will:
Accelerate the protection of forest and water resources
Conduct new science on the economics of conservation
Incentivize sustainable production of food and fiber
Mitigate impacts from climate change
Improve public health and local economies
Conserving our forests and farmlands today will ensure social, environmental, and economic benefits for generations to come. Contact Senior Conservationist, Spencer Meyer for more information about our conservation finance work.
Additional Resources