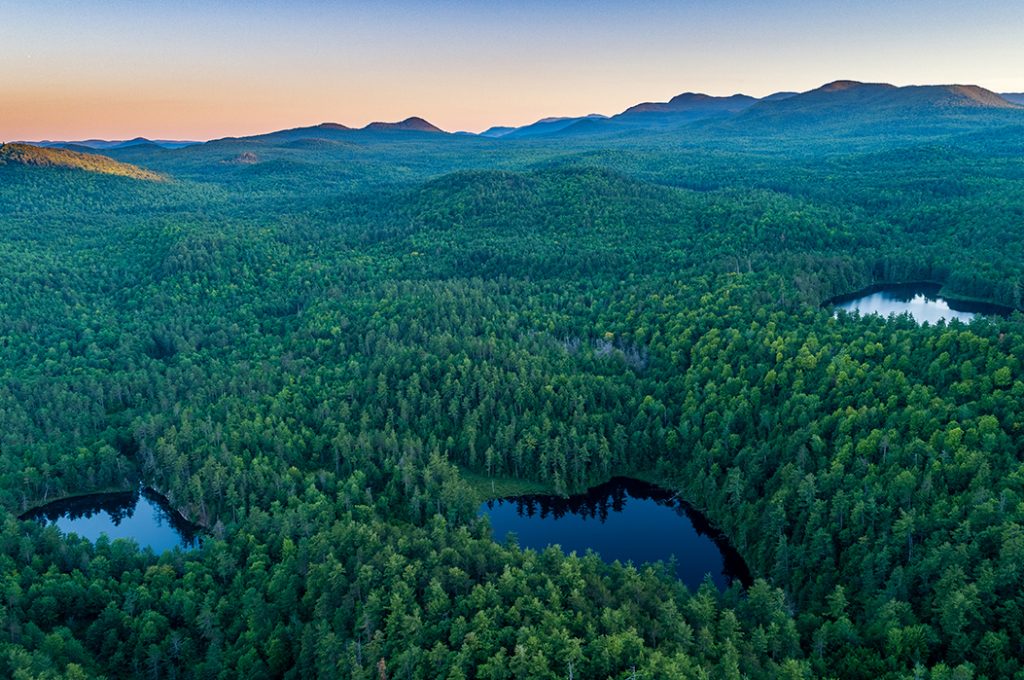 Northeast Wilderness Trust has launched a new initiative to accelerate the pace of wilderness conservation across New England and New York. The Wildlands Partnership offers local land trusts the resources to work on wilderness conservation while receiving periodic income through a developing wilderness carbon market.
Based in Montpelier, VT, Northeast Wilderness Trust is the only regional land trust focused exclusively on conserving forever-wild land—places where nature directs the ebb and flow of life. Since its founding in 2002, the Trust has conserved more than 35,000 forever-wild acres in Maine, New Hampshire, Vermont, New York, Massachusetts, and Connecticut.
The purpose of the Wildlands Partnership is to take immediate, tangible action to confront today's most pressing environmental crises: climate change and mass extinction. "Our goal is to ignite a renewed conversation around wildlands protection—between land trusts, philanthropists, and the general public. We aim to work with local land trusts to protect 10,000 acres as wilderness across the Northeast over the next three years," said Sophie Ehrhardt, Wildlands Partnership Coordinator.
Partnering with Northeast Wilderness Trust in this effort is Wildlands & Woodlands, an initiative coordinated by Highstead Foundation and the Harvard Forest. To realize a resilient future anchored in a traditional land-based economy while also protecting biodiversity, the Wildlands & Woodlands vision calls for forests to be conserved across 70% of New England by 2060—and for 7% of the landscape to be preserved as wildlands. Less than 3% of New England and the entire Northeast is currently wilderness, underscoring the imperative for wilderness preservation.
Northeast Wilderness Trust is unique among conservation organizations in the Northeast in its focus on wildlands.

David Foster
"Northeast Wilderness Trust is unique among conservation organizations in the Northeast in its focus on wildlands," said David Foster, Highstead Foundation President. "Given this focus and experience they are perfectly positioned to collaborate with land trusts and other organizations to increase the pace of wilderness conservation to address the immediate challenges posed by climate change and support Wildlands & Woodlands' long-term goals."
The benefits of unmanaged, wild forests for clean water and air, carbon storage, and wildlife habitat are enormous. "Northeast Wilderness Trust's mission is to protect forever-wild landscapes, for nature and people," said Jon Leibowitz, Executive Director of the Wilderness Trust. "On lands we conserve, you'll see very little management—often none at all. Trees get old, fall over, and add rich complexity to the forest, creating beautiful and unique habitats often missing from managed landscapes. Each place we protect today has the potential to be a future old-growth forest."
Northeast Wilderness Trust is already beginning conservation work on the ground with local land trusts. Through the Partnership, the Wilderness Trust covers land trusts' staff time and other expenses associated with wilderness conservation, while also offering technical support and expertise. "We have raised $800,000 towards the first phase of this effort, and are working to raise another $800,000," said Mr. Leibowitz.
In exchange for financial and technical support, land trusts provide the Wilderness Trust with a connection to their local communities and knowledge of their landscape. Together, partners will work to shift the narrative around wilderness conservation in the Northeast, one community at a time. "The Wildlands partnership offers a streamlined, cost-effective way for land trusts to add another dimension to their work while doing what they do best: saving places for future generations," said Sophie Ehrhardt.
Partner land trusts can also choose to enroll wildlands conserved through the Partnership in the Wilderness Trust's Wild Carbon program. In 2010, Northeast Wilderness Trust pioneered a developing market for carbon credits derived from privately protected wilderness. As part of the Wildlands Partnership, they are aiming to help other land trusts receive long-term and stable financial benefits by choosing to set aside permanently protected wilderness.
As a natural climate solution, wild forests act as a carbon sink and continue sequestering and storing carbon indefinitely. This makes them attractive candidates on the carbon market for companies looking to offset their business practices in ways that make a concrete difference. The Wild Carbon program is the first of its kind in the Northeast because it aggregates wilderness properties across state lines and landowners, making it possible for even small land trusts to receive carbon revenue.
The Partnership will strategically prioritize landscapes that offer wildlife the possibility of movement and resilience in the face of a changing climate. Together, partners will collaborate to develop and realize a vision for conservation that includes protected, wild forests within a landscape that is otherwise largely dedicated to human uses.
Learn more about the Wildlands Partnership and how your local conservation group can get involved by visiting www.newildernesstrust.org/wp or contacting Sophie Ehrhardt at sophie@newildernesstrust.org or 802.224.1000.