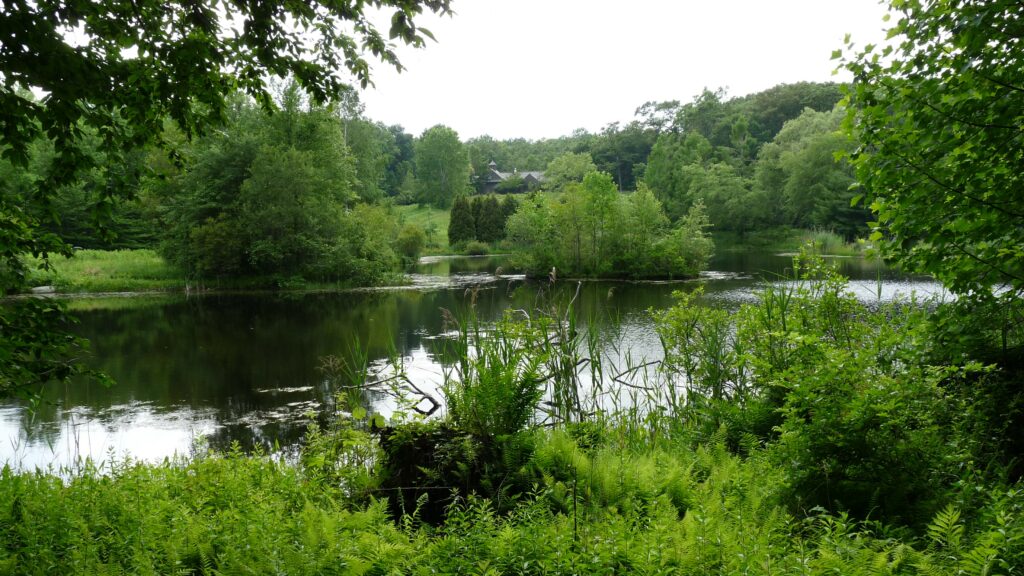 We can take a cue from the 2022 Earth Day theme and "Invest In Our Planet" by implementing nature-based solutions at our homes or in our communities. Nature-based solutions involve the services that nature's ecosystems provide and are defined by the International Union for Conservation of Nature (IUCN) as "actions to protect, sustainably manage, and restore natural or modified ecosystems, that address societal challenges effectively and adaptively, simultaneously providing human well-being and biodiversity benefits." Specifically, nature-based solutions may involve capturing water from storm runoff, supporting healthy and fertile soil (for erosion prevention and food and other crop production), sequestering carbon and oxygen generation, filtering air and water, and providing habitat for wildlife and essential pollinators like native insects and birds.
Are you ready to help protect your community, support and restore healthier ecosystems, and address climate change?
"At Highstead, we take an ecologically-minded approach to stewarding our natural areas and cultivated landscapes in ways that demonstrate methods of sustainable ecological design and management," says Kathleen Kitka, Highstead Landscape and Collections manager. "We want to show how to enhance habitat diversity and conserve native plants and wildlife." This strategy plays out in ecologically landscaped settings from the Highstead Barn, to preserved habitat like the forested wetland.
Take a tour of some of the nature-based solutions and strategies employed across the Highstead landscape.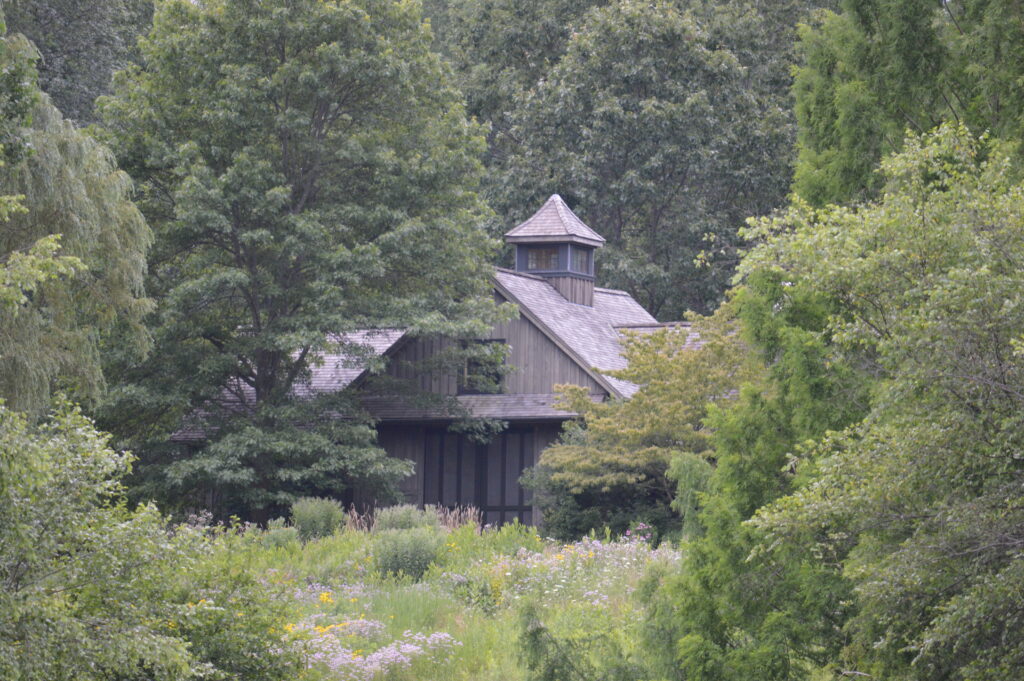 Situated above a wildflower meadow and below an oak forest, this one-acre landscape is centered on Highstead's Barn headquarters building. The Barn landscape is similar to a residence and serves to demonstrate management of a residential site as a low maintenance, ecologically sound, and aesthetically pleasing naturalistic landscape. Native plantings blend the Barn aesthetically into its natural surroundings, create habitat for wildlife, reduce maintenance and pollution, and help maintain a sense of place.
The oak genus (Quercus), consisting of over 90 species in North America, also offers substantial pollinator power by supporting 897 caterpillar species in the United States along with other insect species, more than any other native tree or plant. On the side of the built environment, tree cover provides additional benefits, like those described in Highstead's senior ecologist Ed Faison's 2021 Arnoldia article, Backyard Natural Climate Solutions. Faison detailed how trees standing within sixty feet of his house provide summer cooling and winter insulation, resulting in decreased energy expenditure and reduced carbon emissions.
On the hillside east of the Barn, the wildflower meadow fills a substantial viewshed and is an example of a lawn alternative. This two-acre ecosystem was created following construction of the adjacent pond. It was initially planted with a mix of clover and grass seed to prevent erosion and one half of the expanse was subsequently seeded with North American native prairie grasses and forbs. This portion of the meadow was found to be less susceptible to colonization by invasive species than the unseeded half. The meadow is maintained as a habitat for wildlife, including songbirds, butterflies, and other pollinating insects that depend on native plants and grasses to complete their lifecycles. It is mowed annually to prevent transitioning to forest.
If you don't have an existing meadow or space for one in your backyard, you can plant a wildflower garden as a foundation planting near the house or in ornamental plant containers on your deck or patio.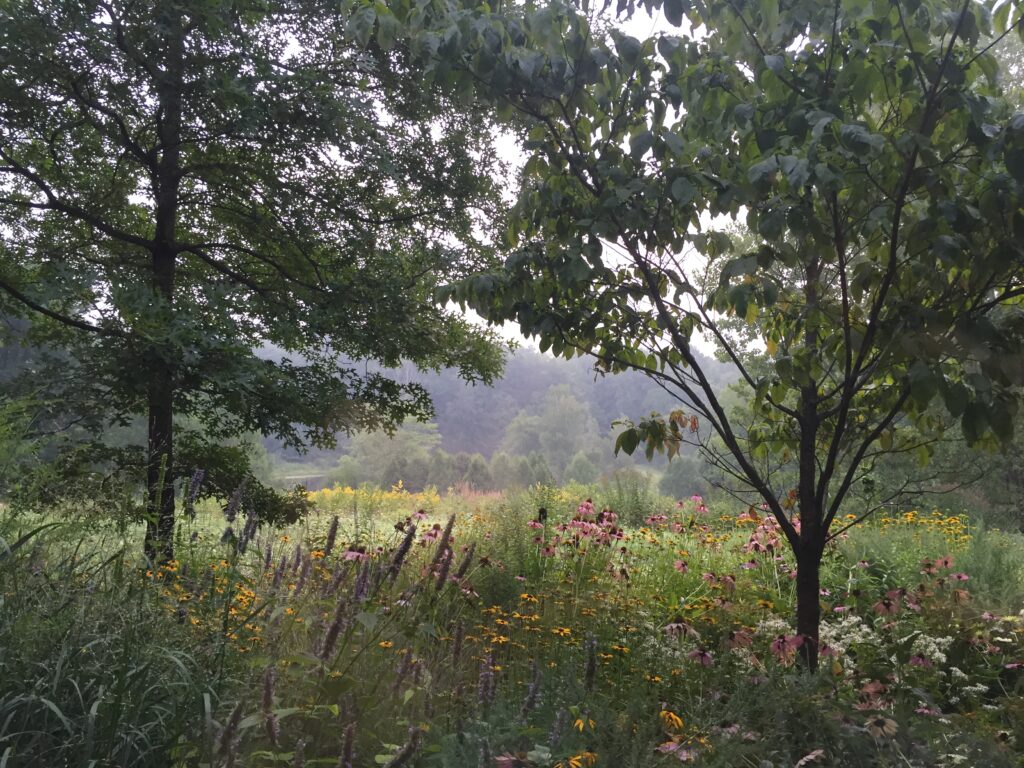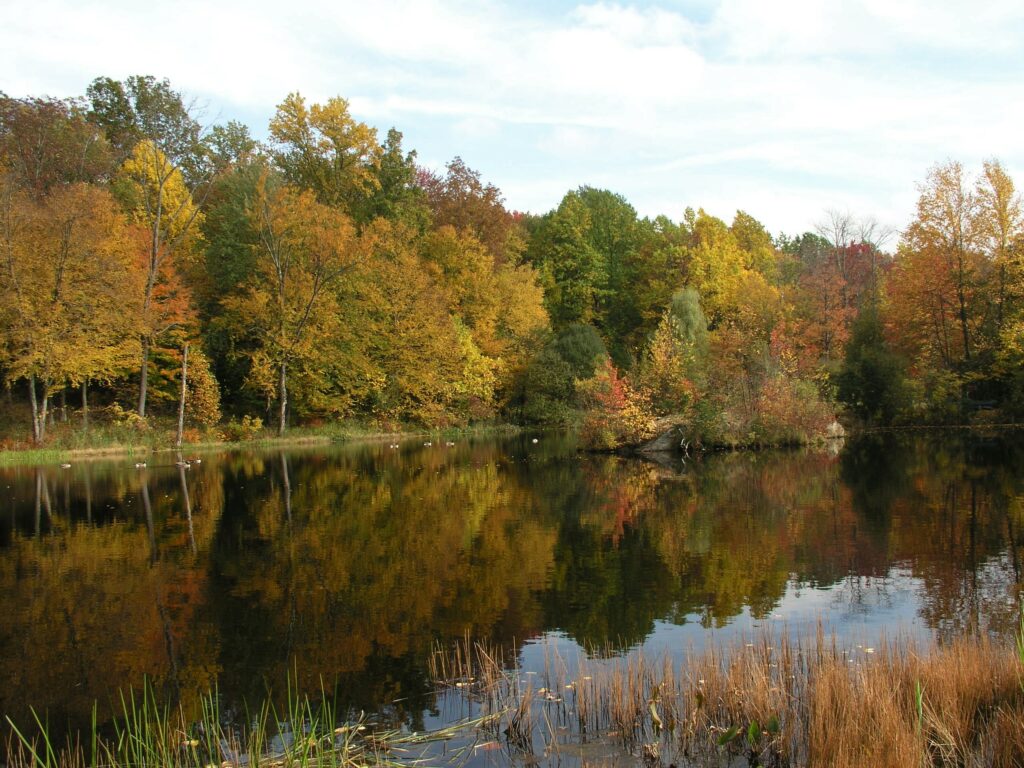 Fed by an intermittent stream flowing from the adjacent wooded swamp, this nearly three-acre human-made pond was created to enhance the diversity of native plants and habitats on the property. Situated downhill from the Barn, it also provides an aesthetic central point for the Highstead landscape. Ponds and wetlands play an important role slowing the flow of storm runoff which reduces urban flooding.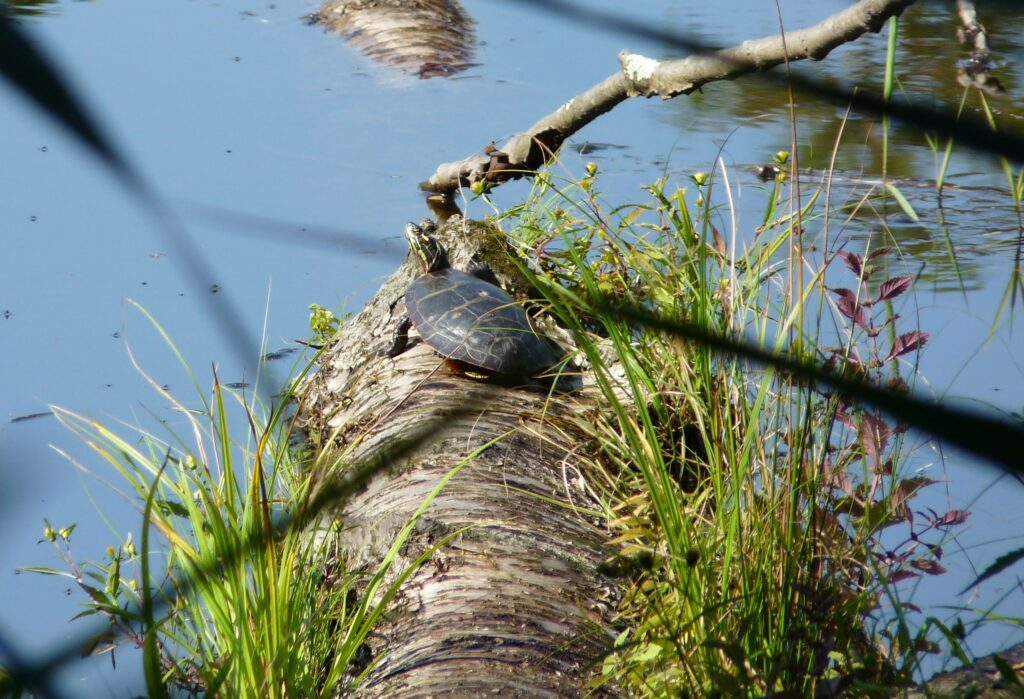 The pond maintains a fairly stable year-round water level, supporting aquatic and wetland vegetation diversity, which serves as habitat for wildlife associated with inland ponds and marshes like wood duck (Aix sponsa), painted turtle (Chrysemys picta), and red-spotted newt (Notophthalmus viridescens). A buffer zone of un-mowed vegetation is maintained along the pond edge for wildlife habitat, water quality, and visual continuity with the adjacent meadow.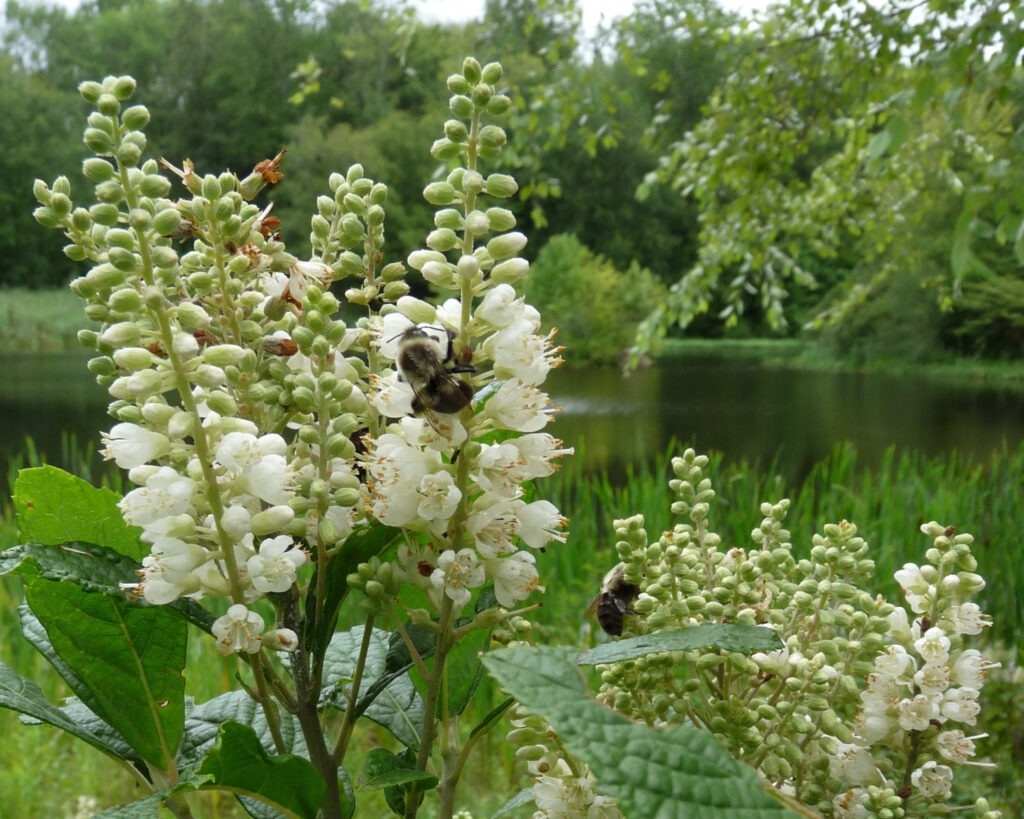 The south and west edges of the pond were altered during its construction, and restoring this area to a more naturalistic state led to plantings of native trees and shrubs whose naturally-growing counterparts are indigenous to the adjacent forested swamp – including Clethra alnifolia, or sweet pepperbush, a favorite of bees when they bloom around the pond and throughout the wetland at the height of summer. If you have a garden or orchard and desire to attract pollinators, then Clethra is a helpful plant—it is also beautiful and fragrant!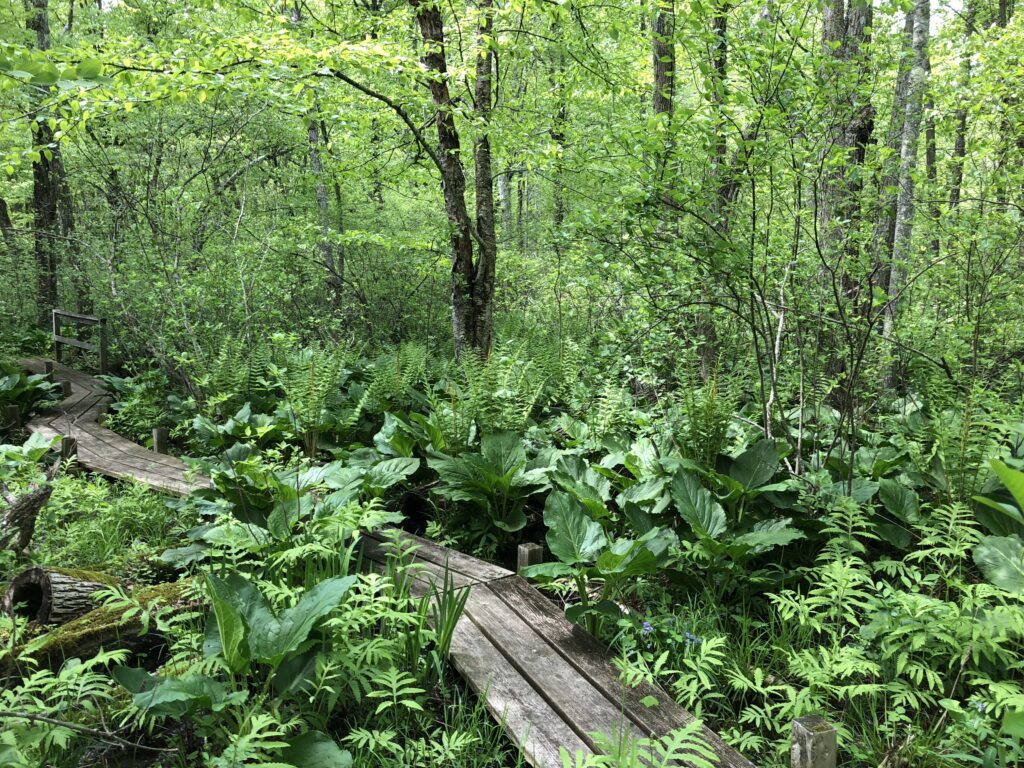 Adjacent to the pond is a red maple swamp, a forested wetland ecosystem. Wetlands act as holding basins for storms and runoff. Wetlands temporarily stem this runoff by reducing the velocity of the water and releasing it into the environment gradually over time, thus lowering the severity of flooding and downstream erosion. In addition, wetlands can filter and clean water of excess sediments and chemicals naturally, and on a larger scale, are essential storage for carbon, as their plant communities and soils are suitable for preventing atmospheric carbon dioxide release.
At the same time, this forested wetland serves as essential habitat for rare native species and provides suitable territory for native tree and shrub species, benefiting pollinators and diverse wildlife. Red maple and yellow birch dominate the overstory. Spicebush, winterberry, and sweet pepperbush comprise the tall shrub layer. Skunk cabbage and cinnamon fern fill out the thick herbaceous layer along with various sedges, marsh marigold, and marsh blue violet. In addition to common animal species such as bobcat, barred owl, and spotted turtle, at least one rare species inhabits the swamp – Eastern box turtles (Terrapene carolina carolina), a species of special concern in Connecticut. An inventory of lichens at Highstead conducted by Douglas Ladd of the Missouri Nature Conservancy found that "the low wet valley of the swamp contains some of the most sensitive lichens, including species restricted to high-quality natural habitats."
Oak-Mountain Laurel Forest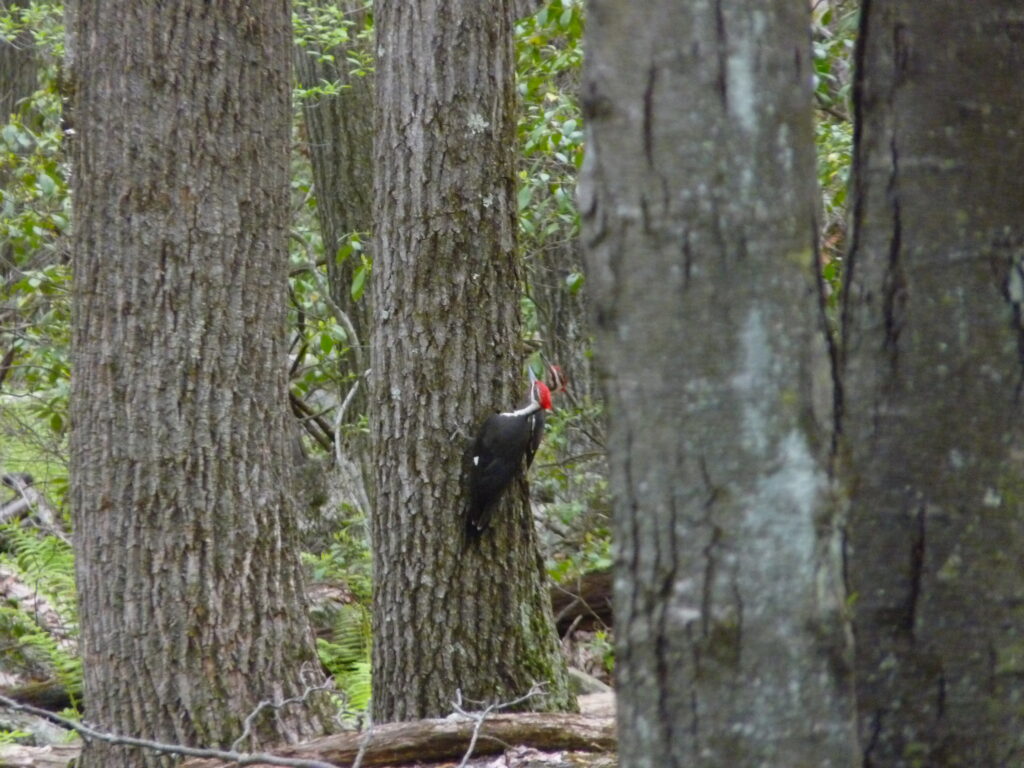 Rocky ledges and dry, acidic soils on the western half of the property support 100+-year-old oak trees with a towering mountain laurel (Kalmia latifolia) understory that spreads over 55 acres. These oaks are powerful players for carbon sequestration and air and water filtration, and they provide habitat for forest-dwelling fauna like pileated woodpeckers, wild turkeys, and white-tailed deer. Mountain laurel are widespread throughout Northeastern U.S. forest understories and have a mutually beneficial relationship with mycorrhizal fungi. These soil microorganisms support Kalmia by providing better access to soil nutrients, like nitrogen, and Kalmia provide fungi with carbon from photosynthesis. This type of nutrient cycling is a crucial component of healthy forest ecosystems.
At the northwest corner of the property, a two-acre enhanced oak woodland area demonstrates a naturalistic landscape that is fenced for protection from deer. Several species of native deciduous azaleas and companion plants were added for aesthetics, plant diversity, and to lengthen the flowering season of the woodland. The site is allowed to evolve naturally and is presently undergoing a dramatic increase in herbs and woody plant regeneration due to the elimination of deer.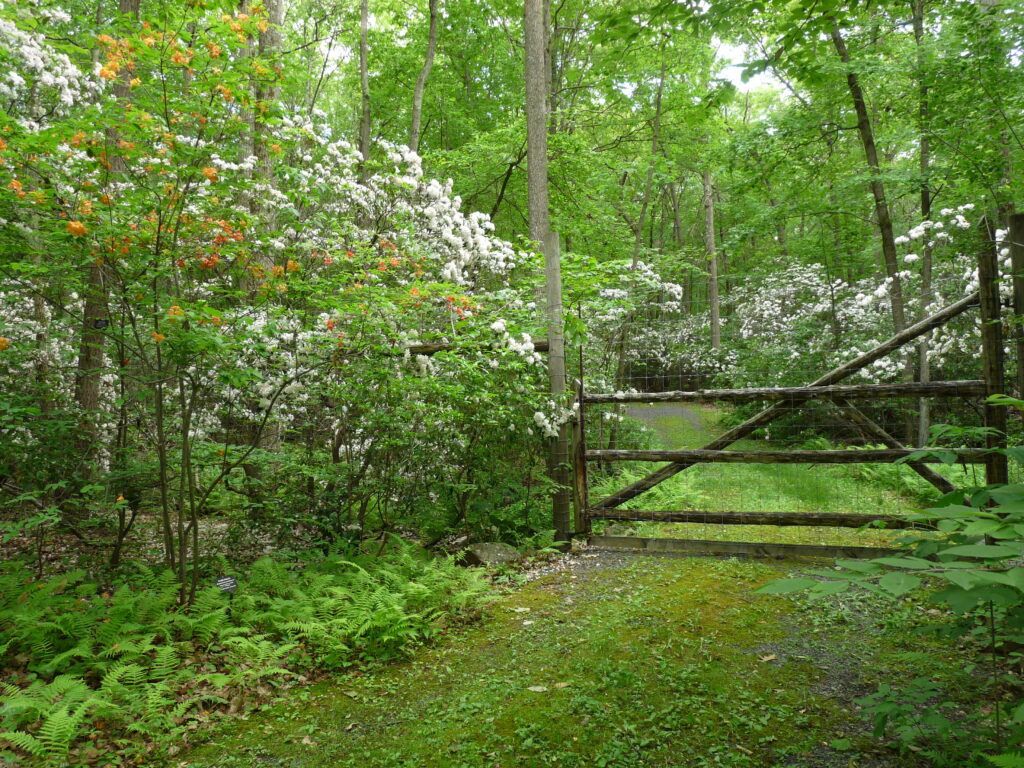 Grassland Meadow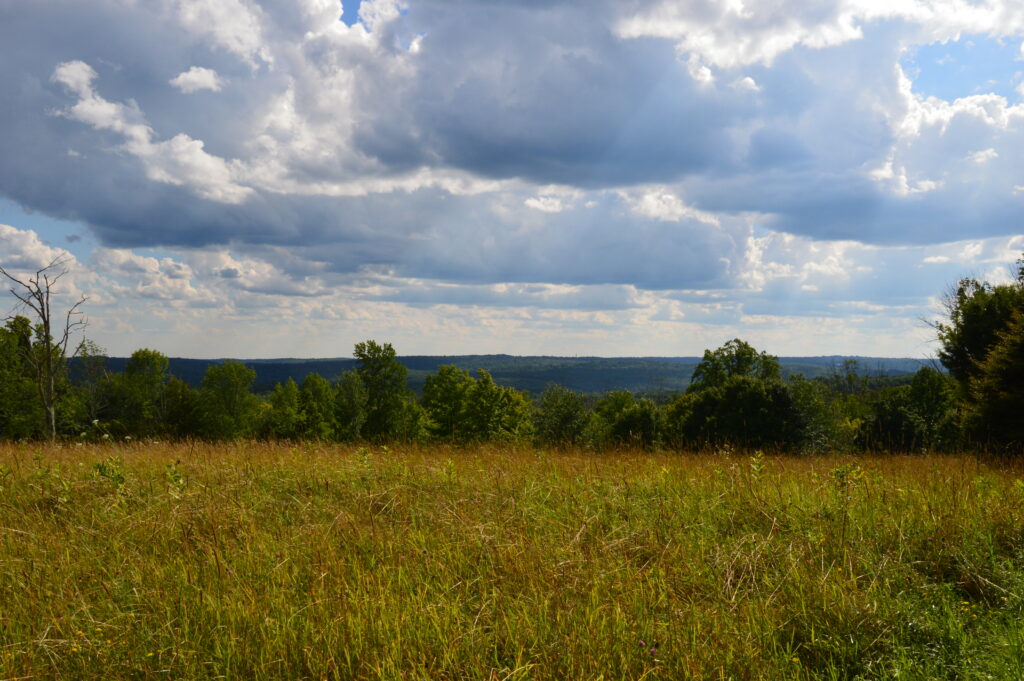 On the eastern hilltop drumlin is a meadow consisting of introduced grasses, a common land type from the conclusion of the colonial period in New England, and is preserved for its scenic and cultural heritage and habitat value. It is an uncommon habitat in southern New England due to agricultural decline, natural successional processes, and increased development. Although the grasses are not native, locally adapted native forbs like common milkweed (Asclepia syriaca) and Indian hemp (Apocynum cannabinum) are interspersed throughout and are a magnet for pollinating insects such as bees, wasps, and butterflies. Milkweed plays an essential role in the survival of the monarch caterpillars who rely on this plant for food.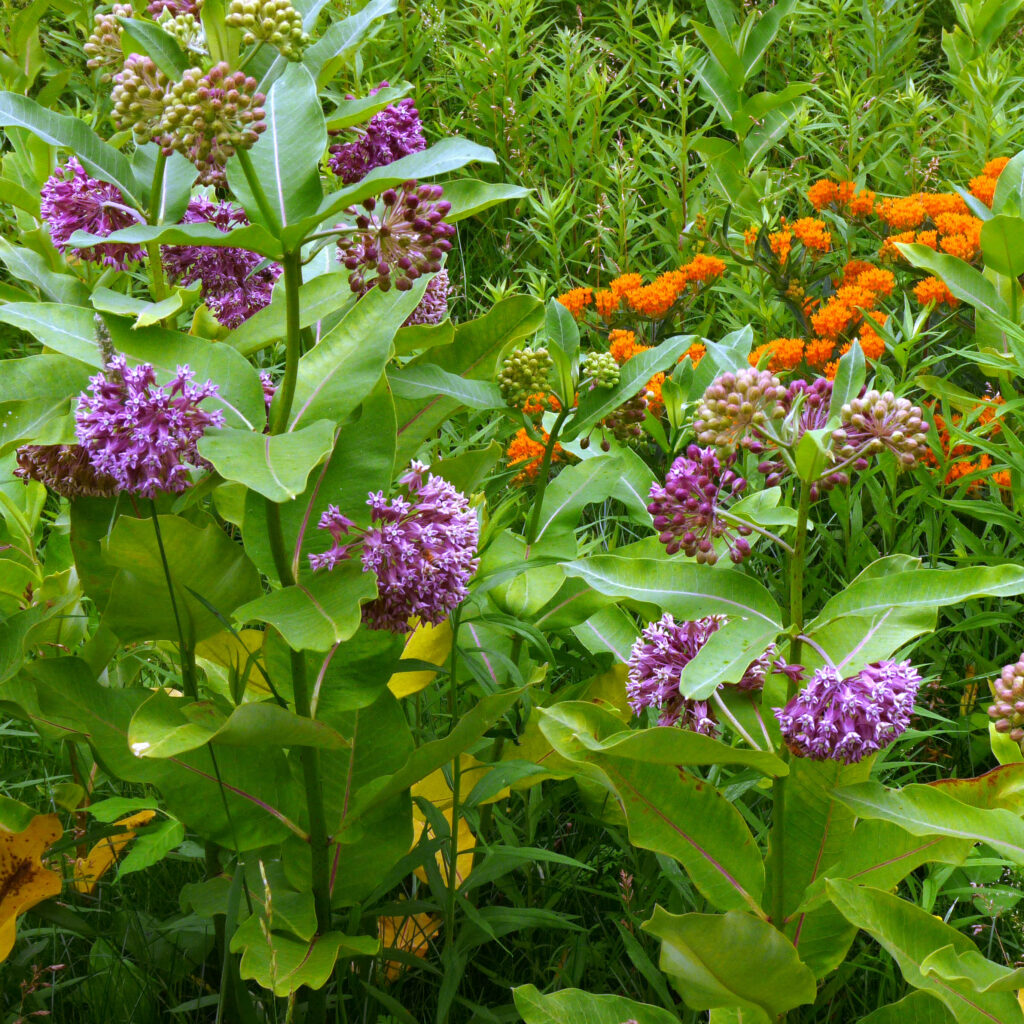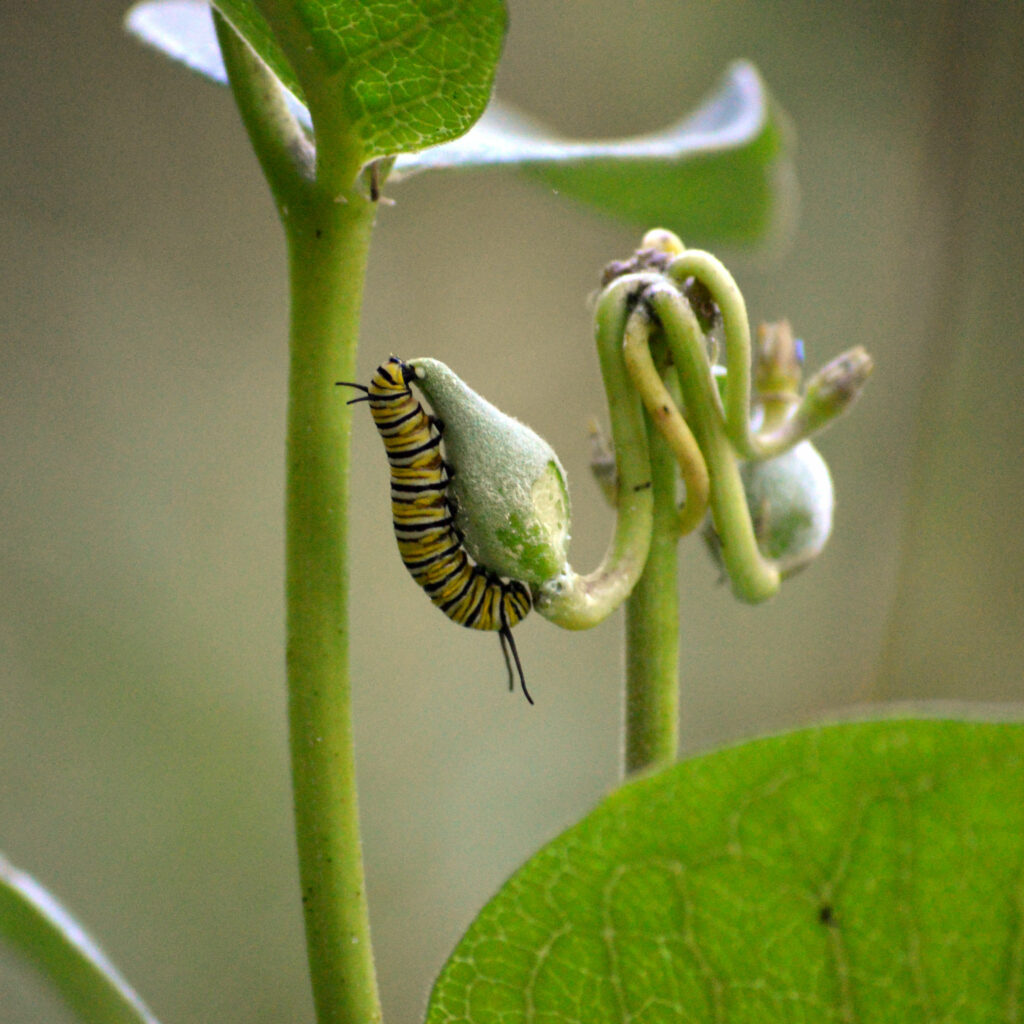 Today the meadow serves as critical nesting habitat for the migratory bobolink (Dolichonyx oryzivorus), a Connecticut species of special concern. Highstead mows the grassland meadows in the late summer to ensure that young birds have an opportunity to fledge successfully.
In addition to habitat for grassland-adapted flora and fauna, grassland meadows sequester carbon by fixing it underground, in contrast to forests where carbon is aboveground and stored in woody biomass and leaves.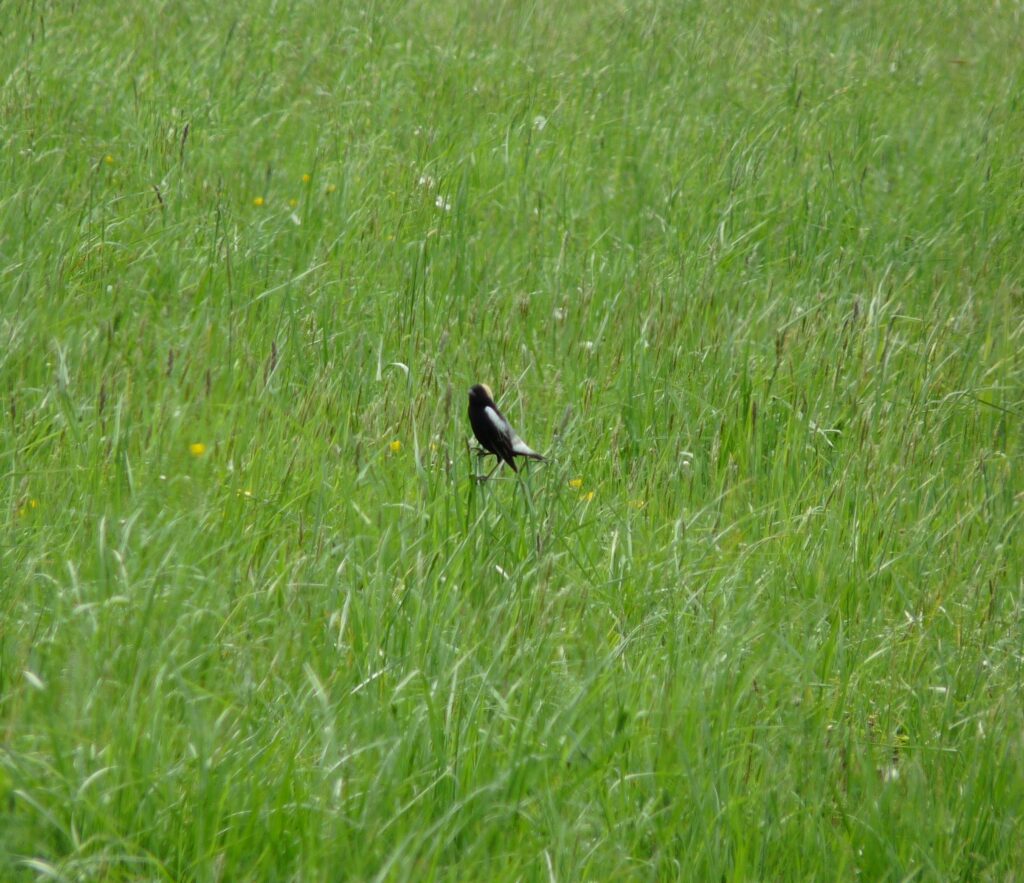 Everybody has a role when it comes to climate action. You can start small by planting natives in containers or strengthening your existing gardens with pollinator-friendly species. You can think big without dismissing your entire landscape and work around nonnatives, or preserve your forest, meadow, or pond as a conservation corridor to support biodiversity and absorb carbon dioxide. Your sustained connection with the planet is vital, so if you are ecologically landscape inclined, consider the significant improvements you can make by applying nature-based solutions and strategies to your home or community spaces.
Learn More About Nature-Based Climate Solutions