Securing funding and public support for land conservation can be a challenge, requiring innovative thinking and unlikely alliances. Sebago Clean Waters (SCW), a collaborative of nine organizations, including Highstead, has employed these tactics to great effect recently. By partnering with several businesses that recognize that clean water is essential to their success and the well-being of their communities, SCW has raised additional funds and increased awareness of its mission to protect the vital Sebago Lake watershed in Maine.
The most recent of these partnerships is with Portland's Lone Pine Brewing Company. In February, Lone Pine announced its 1% For the Waters initiative alongside the launch of a new craft seltzer line. The brewery pledges a contribution of one percent of the sales of every 4- and 12-pack of craft seltzer sold toward SCW's efforts to protect the Sebago Lake watershed. This latest collaboration bolsters initial investments for Sebago-area conservation and will support improved and sustained access to clean water.
SCW works with landowners, communities, and businesses to raise awareness about and increase the pace of protection for the forestlands that filter and sustain the water supply for 1 in 6 Mainers, more than 200,000 people. Sebago Lake is one of only 50 public surface water supplies in the country that is so clean it doesn't need to be filtered before treatment. The watershed encompasses 234,000 acres of forest and waterways that are increasingly threatened by development pressure. These forestlands and freshwater resources provide myriad environmental and community benefits, including clean water, wildlife habitat, stormwater management, outdoor recreation spaces, and natural resources jobs. Only 11% of the watershed is currently conserved. SCW's goal is to conserve an additional 35,000 acres of land in the Sebago watershed by 2036 and raise $18.5 million to support the effort.
Spencer Meyer, Senior Conservationist at Highstead and co-founder of Sebago Clean Waters, remarked "The clean water that flows from the forests in the Sebago Lake region not only provides clean drinking water for many Mainers, but also is a key ingredient for so many businesses. We are thrilled to partner with Lone Pine Brewing to help ensure future generations of Mainers will still be able to tap the forests for their water."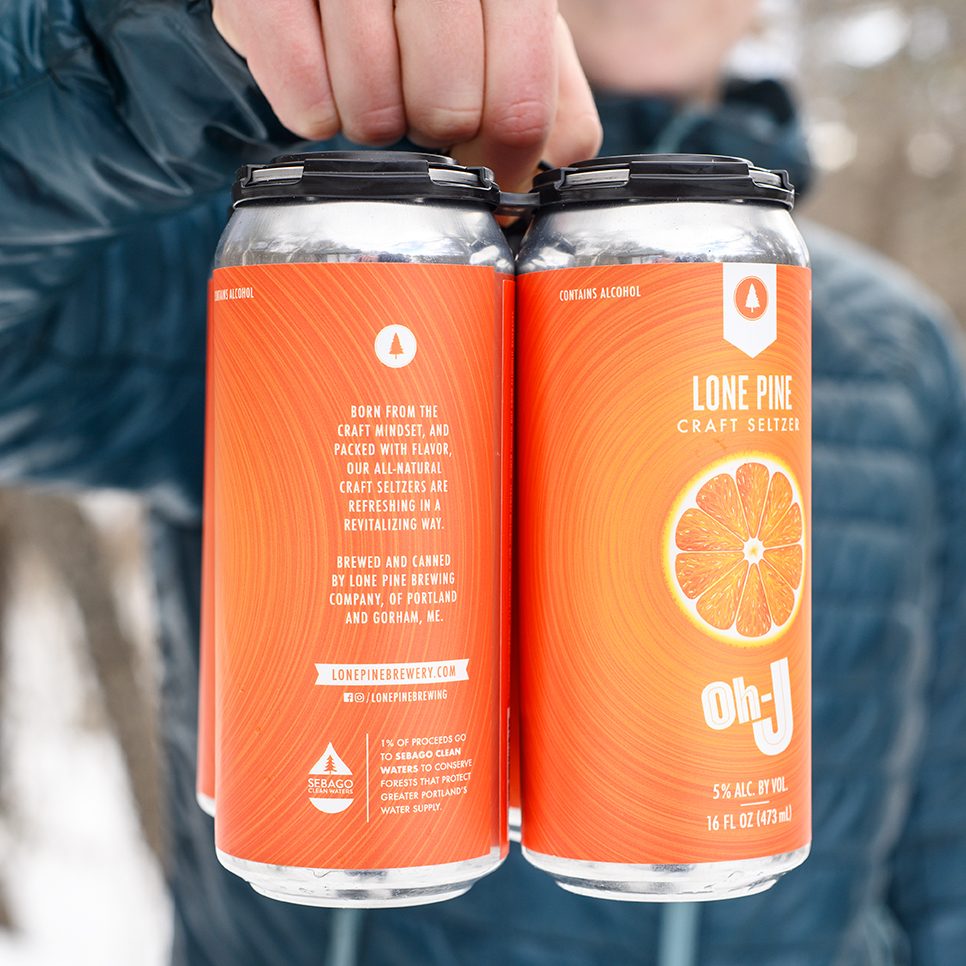 Lone Pine's sugar-free, gluten-free, and low-calorie craft seltzers come in 4 packs of the Oh-J flavor. Variety 12 packs made up of four different flavors will be available this Friday, March 5, 2021, to go at Lone Pine Brewing's Portland and Gorham tasting rooms and available at Maine retailers and neighboring states in the coming weeks. Visit the Lone Pine Brewing (@lonepinebrewing) or Sebago Clean Waters (@sebagocleanwaters) Instagram and Facebook profiles for more information.