There are 11 regional conservation partnerships (RCPs) operating along the Appalachian Trail, covering a 10 million acre landscape from eastern New York to northern Maine. Those RCPs helped create the Northern Appalachian Trail Landscape Partnership (NATLP) to advance the protection of water- and viewsheds surrounding this historic and important trail and to engage many more communities in the corridor's use and stewardship.
Highstead supports the NATLP by co-facilitating meetings, building partner relationships, and providing resources. This broad, regional conservation effort also helps to advance the Wildlands & Woodlands vision, which calls for the permanent protection of 70% of New England as forests free from development.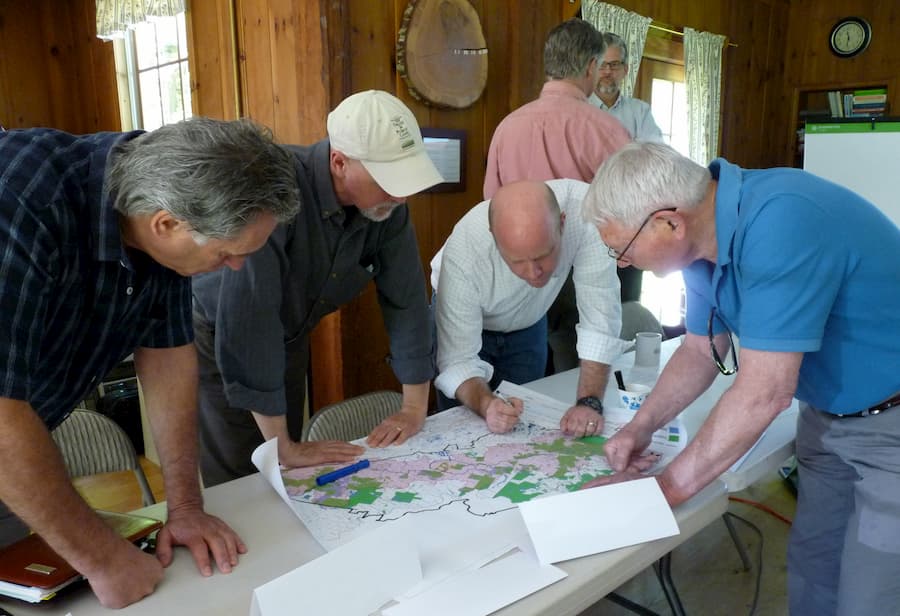 Connecting on conservation
In late 2015, at a meeting of Academics for Land Protection in New England (ALPINE), members including the coordinator of the RCP Network began thinking about how to best support the Appalachian Trail Landscape Partnership (ATLP) in their important work to conserve the landscape surrounding the 2,190-mile A.T. Focusing on the section between Mt. Katahdin in Maine and the Hudson River in New York, discussions continued at the 2016 RCP Network Gathering and later meetings in 2017.
Planning for a conserved Appalachian Trail
Since then, quarterly meetings have provided a forum to advance the efforts of this group that spans town and state borders. The participating RCPs developed a strategic conservation map based on six core values and defined their vision as protecting 1.4 million acres, including 80% of the land within one mile of the trail in the group's region.
Highstead supports NATLP through:
Facilitating meetings and stakeholder engagement
Advancing multi-RCP applications to federal grants
Engaging regional partners, like local Audubon chapters
Establishing an endorsement protocol to help partners prioritize projects
Developing a database across the 10M-acre landscape to track project status and funding
Protecting for progress
The NATLP is working on prioritizing conservation projects to protect scenery along the trail, natural resource quality, and ecological connectivity, while enhancing the user experience and preserving the history of this section of the Appalachian Trail.
By establishing relationships with affinity groups like the Northeast Bird Habitat Conservation Initiative and historical societies, NATLP is building capacity for a holistic approach to conservation that increases stakeholder buy-in and benefits for all communities along the trail.