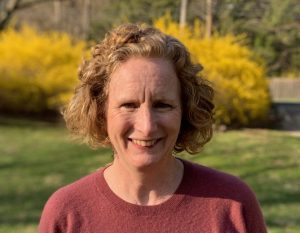 Jeanne is responsible for leading the communications strategy for Highstead and for the Wildlands and Woodlands initiative, including looking for new ways to engage partners in advancing an ambitious vision.
Jeanne has spent the bulk of her career in corporate communications, honing her skills in a variety of industries, including engineering, financial services, pharmaceuticals and, most recently, public media in the tri-state area. It was at WNET that Jeanne discovered the power of communications as a tool for advancing a mission-driven organization, a realization that eventually brought her to Highstead in 2020. Jeanne earned a BA in Modern Languages from Fairfield University.
She is a member of the Board of Trustees of the Redding Land Trust.
As a child growing up in the 60s and 70s in Redding, CT, Jeanne spent much of her free time exploring the woods and streams near her home. She recently returned to her hometown and has once again discovered the joy of life in the woods. She is an avid hiker and an adequate gardener.