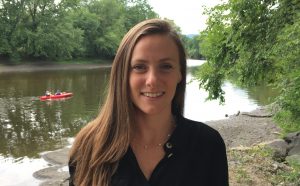 Tara supports the Conservation Finance program and its partners to advance the pace and scale of land conservation in New England through innovative financing, funding, and research. Tara joined Highstead in 2019 after completing an internship at Highstead where she explored the role of conservation in the region's urban landscapes.
Before Highstead, Tara worked as an Environmental Educator where she engaged students in the natural sciences and conservation across the rural-urban gradient. It was during her time as an educator that she became interested in environmental justice and went on to earn an MS in Environmental Policy and Sustainability Management from The New School, where she had varied experiences in the conservation field with organizations and agencies including New York City Audubon, the New York City Department of Environmental Protection, and the New York City Energy Efficiency Corporation.
Tara enjoys backpacking, mountain biking, and most recently, gardening. Her commitment to the natural environment and her work at Highstead stems from a passion for meaningful work that will both protect the land and natural resources, but also protect the right of all people to have access to and a connection with the natural world.