As part of its commitment to inspiring the next generation of conservationists, Highstead typically brings on 3-4 interns each year. While the pandemic moved our 2020 interns to a remote model, this summer, Highstead selected one Ecology Intern to work on-site to collect, record, and analyze data for several long-term research projects. Meet Danielle Weiss, Ecology Intern.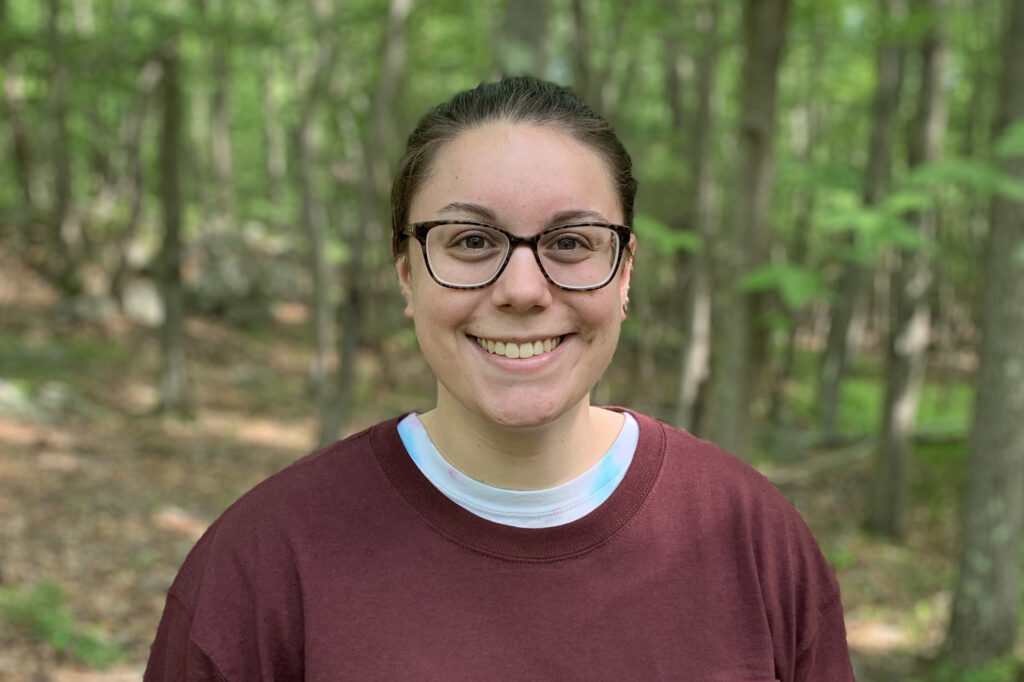 Who are you?
Danielle: My name is Danielle Weiss I am this summer's Ecology Intern. I am finishing up my bachelor's degree in Ecological Biology at Western Connecticut State University (WCSU) this fall. I try to stay involved in the biology clubs at school, and I love getting outside and painting in my free time.
What drew you to Highstead?
Danielle: Highstead had a great internship opportunity, so as soon as I heard I could apply, I did. I also thought it would be amazing to get some more experience in the field and try something new that I am very passionate about: plants!
How does the ecology internship compare to your past internships?
Danielle: This ecology internship is similar to my past internships with the WCSU Tick Lab because I get to be out in the field most of the time collecting data. Then the rest of my time is spent entering data and analyzing results for my final project. This internship is different than my past internship experiences because I am learning and identifying plant, shrub, and seedling species that I wasn't familiar with before coming to Highstead. This internship has already taught me so much about plant and tree identification and what is going on in the Oak versus Ash forests here at Highstead. I cannot wait to learn more!
What does your day-to-day look like as the Highstead Ecology Intern?
Danielle: As a Highstead ecology intern, my day typically lasts from 9 am to 5 pm, and I start by going out into the field with [Senior Ecologist] Ed Faison, or just myself around 9:15, once I have everything packed and ready to go. Each day the goal is to go to two of the plots here at Highstead and identify every tree, shrub, seedling, and herb. To do this, I have to set up measuring tapes around the entire plot border and then set up two cross-sections. Within the plot, the goal is to identify all of the species and measure the tree's diameter, come up with a percent coverage for the shrubs, seedlings, and herbs, and measure any woody debris on the diagonal cross-sections of the plot. After being out in the field, I come back to the barn and enter data. When I have some extra time I like to update the species identification list I created to help me out when I survey alone.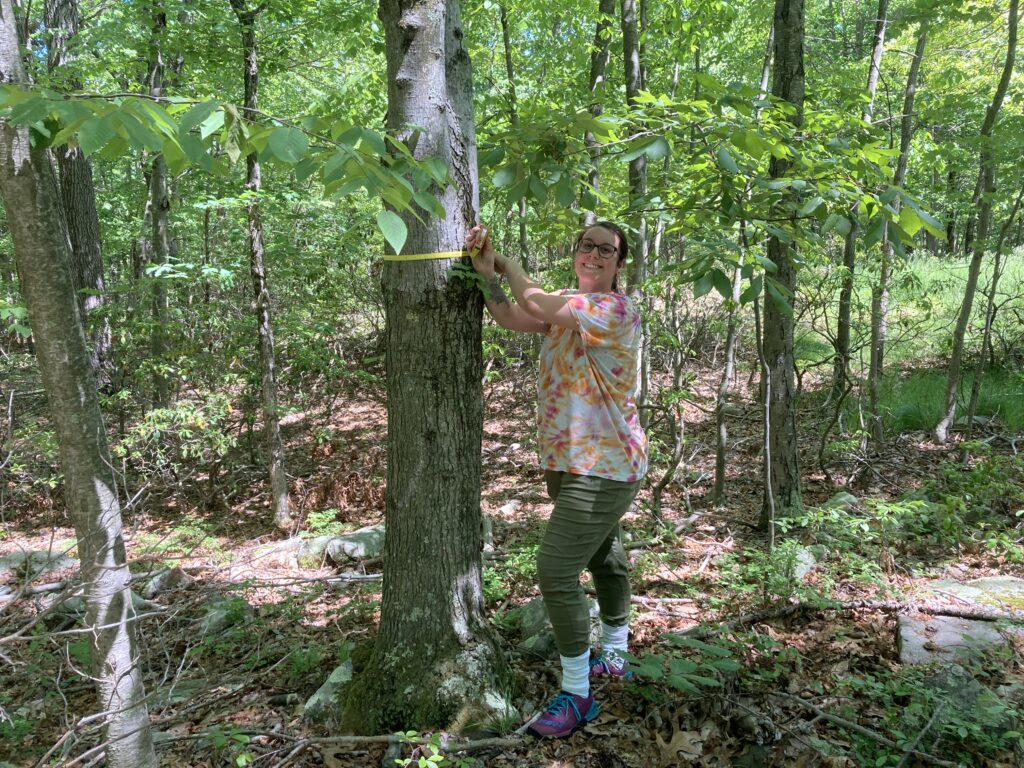 What are your current academic and career goals?
Danielle: My current academic and career goals go hand in hand because my long-term goal is to get my Ph.D. and do research on something related to ecology and conservation. I am now focused on studying for the GRE and looking into graduate schools for a Master's program for next Fall.
Where does your motivation come from?
Danielle: My motivation comes from my wish to help the environment someday with my research. I have been able to make that into a reality by working towards my education in ecological biology.
Who are your conservation heroes throughout history and today and why?
Danielle: Although I am really bad with names, Jane Goodall is one I will never forget. Jane is probably on everyone's list of conservation heroes, including mine, because of her lifetime effort to conserve the environment and protect our wildlife. Jane is such an inspiring person, and I want to be even half of that one day—spreading conservation knowledge and action with the rest of the world.
Where is your favorite place to recreate in the Northeast? What makes it special?
Danielle: I love going to Sherwood Island State Park here in Connecticut on the weekends. Sherwood Island is in Westport and is a huge state park along the shore. I have so much fun being on the beach, longboarding, or painting there!
What advice would you give to someone searching for a conservation internship?
Danielle: My advice would be to apply to anything and everything that has to do with conservation or biology because any field or lab experience will be helpful. Even if you end up disliking your internship opportunity, it could help you figure out what you do not want to do in the future. Contrary to that, you might end up finding a great internship that can open doors for your career in the future and help you narrow down your future degree or career goals. I think that internships are a great way to get your foot in the door to something new, and I am very thankful to be at Highstead this summer.
What advice have you received that has stuck with you?
Danielle: The advice that has stuck with me, especially recently, is that everything will work itself out if you are trying your best. Especially with biology and research in general, it can be really hard to know what your future will look like. The most important thing is to continue learning, trying out new internships, and creating connections, because if you are doing that, everything will work itself out. I have gotten this advice multiple times from many professors of mine when I ask, "How did you figure out what you wanted to research, and how did you get here?" I try to remind myself of this advice anytime I feel like I am lost or need a straighter and more familiar path for my future.