Highstead would not be what it is today without the steadfast leadership and diverse experiences of its team members. Meet the experts, conservation leaders, scientists, and staff that embody Highstead's mission to build a healthier, more liveable world for all in our new interview series.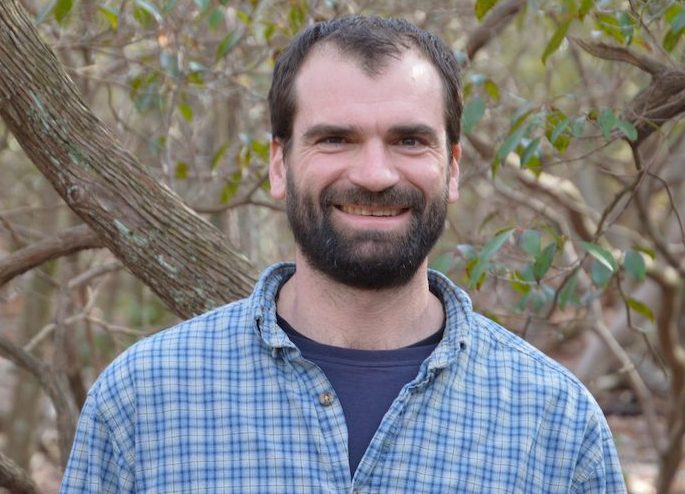 What is your role?
Jesse: I am the grounds and facilities coordinator and responsible for the general upkeep of the Highstead barn and surrounding landscape. I also provide logistical support for events on-site and participate in some partner-sponsored and hosted activities.
What drew you to Highstead?
Jesse: An interest in horticulture and tree care got me interested in Highstead, and a desire to work around positive people with similar interests was a bonus. With an emphasis on education, research, and outreach, I saw Highstead as an organization I could learn from and grow with, and where I could take pride in my work while knowing that I was doing something to help preserve the natural environment and resources we are all dependent upon.
What are your favorite parts of your job?
Jesse: My job involves a variety of indoor and outdoor work that's challenging and equally rewarding. I enjoy the outdoor work the most, especially when the weather is nice. In particular, I find fulfillment through planting and pruning, and being on the property every day, witnessing all the wildlife and seasonal changes. I really feel a connection to the land.
Where does your motivation come from?
Jesse: My motivation comes partly from knowing that the work I do locally helps drive conservation on a larger scale. In a simpler form, I find encouragement directly through my work with plants. I enjoy pruning because it is a way to express myself artistically while also utilizing my knowledge to help guide my cuts. As much as I enjoy pruning, it's also inspiring to see how plants adapt and grow when left to their own devices.
What is the professional accomplishment you are most proud of?
Jesse: Becoming a certified arborist. I have two licenses; one through the Connecticut Department of Energy and Environmental Protection (CT DEEP) and the other is a professional certification through the International Society of Arboriculture (ISA). Those achievements stick out to me because they represent a time in my life when I really began to understand what I wanted to do professionally and helped guide me to where I am today.
Who are your conservation heroes throughout history and today and why?
Jesse: My grandparents, although not conservationists, were avid birders and active in local groups focused on the environment. If I had to credit anyone for getting me interested in the great outdoors, it would be them. They would almost always be doing something outside, whether gardening, fishing, bird watching, or just taking a walk. They loved to share their experiences with us.
What are some challenges you see facing the conservation and stewardship community in the next ten years?
Jesse: Some challenges I see are:
Clean drinking water, finding funding in an economy that's recovering from the pandemic.
Access to green spaces- community health.
Invasive plants and pests that change the landscape and affect availability of natural resources.
Increasing populations and demand for those resources, coupled with a changing climate and a need to reduce our carbon dependence.
Where is your favorite place to recreate in the Northeast? What makes it special?
Jesse: My family has a cabin and some land in New Hampshire (thanks to my Grandparents), near the White Mountains. I have many fond memories of visiting there over the years. It's special because of what it lacks: running water and electricity. Staying there for even a few days is a great way to remember how lucky we are to have all the amenities we do. One of my favorite things to do there is to walk the trails around the property. It's especially charming in the winter because the woods are often quiet enough to hear the snowfall.
What advice would you give to the next generation of conservationists?
Jesse: I think it's important that we first try to learn their stories when making an appeal to individuals (and groups) outside our own circle. I think by listening and understanding, we have a better chance at finding common ground and achieving success through mutual cooperation.