Highstead would not be what it is today without the steadfast leadership and diverse experiences of its team members. Meet the people of Highstead: experts, conservation leaders, scientists, and staff that embody Highstead's mission to build a healthier, more livable world for all in our staff interview series.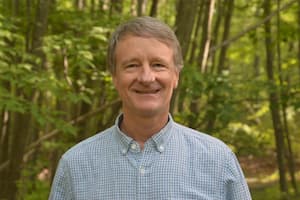 What is your role?
Geordie: As Operations Director, my job is jack of all trades. I work with the team to oversee the day-to-day operations, including finances, HR, IT, buildings, and grounds, and I also participate in and support various aspects of our Land Stewardship, Ecology, Conservation programs, and our work on Wildlands, Woodlands, Farmlands, and Communities. One nice thing about my job is that I never get bored of doing the same thing.
What drew you to Highstead?
Geordie: I grew up playing outside in the lakes, mountains, and forests of New Hampshire and have a great love for wild places and natural landscapes. The idea of working for an organization dedicated to learning about native plants and teaching the public about them excited me. When Highstead later expanded its mission to include land protection, I saw it as a logical extension that further aligned with my personal interests.
What are your favorite parts of your job?
Geordie: The people of Highstead. Each staff member is passionate about what they do and is completely dedicated to their work. Each is unique and brings different talents and perspectives to our work. I am fortunate to work with such a collegial and professional group of individuals whose commitment to their work truly inspires me.
Where does your motivation come from?
Geordie: I have a deep-seated belief that the world can be a better place. Working with people who share that belief and for an organization that embodies that in its mission encourages me to push forward. The Wildlands, Woodlands, Farmlands, and Communities Vision for the New England landscape is bold and some people may even think unachievable. I am undaunted by that. It helps inspire me to think about how we can improve the place where we live and sustain it for future generations.
What is the professional accomplishment you are most proud of?
Geordie: The success of the Ecotype Project excites me. Since college, I have imagined what our towns and cities would look like if we planted native plants and adopted naturalistic landscape techniques that integrated our planted landscapes into the natural lands that surround them. Motivated by the desire to create pollinator habitat, homeowners are planting native plants like never before. It is gratifying to see people plant plants that were grown from wild seed that we originally collected.
Who are your conservation heroes throughout history and today and why?
Geordie: The national parks are a U.S. treasure. My heroes are the many men and women who had the vision to see the value of protecting the unique places and the perseverance to push through the resistance of commercial interest that stood to gain from exploiting the natural resources.
Do you recommend any books, podcasts, or other resources that have had an impact on your life or work?
Geordie: Doug Tallamy has done the research that supports what we have known all along — native plants are essential to healthy landscapes. His work on the relationship between native plants, insects, and the wildlife they support makes a compelling argument for planting natural landscapes.
What is the most important or useful strategy in your conservation and stewardship toolbox?
Geordie: Education and awe. I really enjoy leading people on walks of the Highstead property and interpreting the landscape to them. The natural world is so complex and intricate, yet we tend to walk right past without even noticing. Pointing out the wonders of nature and helping someone understand how special our natural places are generally increases their commitment to protecting them.
Where is your favorite place to recreate in the Northeast? What makes it special?
Geordie: I like the White Mountains, particularly in winter. The beauty of the rock, the snow and ice, the challenge of extreme weather, and the quiet stillness of remote places energize me and helps me keep the world in its proper perspective. The big secret is that you really don't get cold as long as you stay moving. Plus, there is no dirt, and there are no bugs!