Highstead's 2021 Fall Conservation Internship program launched this month, offering students or recent graduates the chance to gain real-world conservation experience in an area that is of interest to them— 1) Policy, 2) Geographic Information Systems (GIS), or 3) Communications and Events. Highstead's fall conservation interns support a variety of projects, working collaboratively with staff, Regional Conservation Partnerships (RCPs) within our network, and other conservation-based organizations.
As they embark on their internship, this season's interns, Jackie Rigley (policy), Jenni Fuller (GIS), and Fiona Lunt (communications and events) shared their background and perspectives on the field of conservation.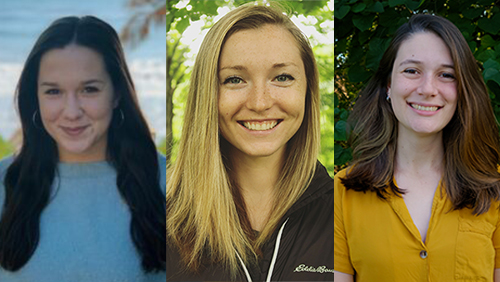 1) What do you hope to gain from your time at Highstead? / How does your Highstead internship fit into your career plans?
Jackie: In my time at Highstead I hope to connect with the staff and learn from people with more experience in the field of conservation. I also strive to strengthen my writing and editing skills. This internship is a great next step for me as I recently graduated and am able to utilize everything I have learned in the past four years.
Jenni: My goal at Highstead is to stretch my skills in conservation GIS in a collaborative environment, and make connections. I have worked with GIS mainly in academic settings, so I'm excited to be using it for applied conservation management. As a recent MS graduate, this is a great learning experience for me as I work towards a full-time career, ideally involving GIS-based landscape management and wildlife conservation.
Fiona: I'm hoping to improve my communications skills and connect with the vast network of conservation groups that Highstead works with. I'm really interested in working with scientific/environmental organizations that deal with advocacy, communications, and/or justice, and so I hope this internship provides some insight into what that type of work looks like outside of academia.
2) What was your favorite course in grad/undergrad?
Jackie: My favorite course in undergrad was Forest Ecosystems. In this class I had the opportunity to do field work in old growth forests in Southern Chile. This course in particular sparked my interest in research and conservation.
Jenni: Of course I loved GIS, but my favorite course in graduate school had to be Ornithology.
Fiona: Soundscapes: Anthropology of Music. But if I had to pick a conservation-related one, then it would probably be a course called "Population, Environment, and Sustainable Development."
3) What advice would you give to students looking to pursue a career in conservation?
Jackie: My best advice for students looking to pursue a career in conservation is to always consider things from multiple perspectives. Understanding the complexity of decision making in the environmental realm is crucial in any position.
Jenni: Reach out to local conservation groups, volunteer, and apply for internships – being active outside of school is the best way to get involved in conservation, gain important skills, and find your niche (and it's okay if you don't find it right away!)
Fiona: I would remind them that the realm of conservation work is vast, so explore your options on multiple scales– local, regional, national, within and outside of academia, etc. Take an interdisciplinary approach since the conservation discipline exists at the intersection of the natural and social sciences and humanities. Start with the parts that are most meaningful to you.
4) What advice have you received that has stuck with you?
Jackie: Advice that has stuck with me over the years is to always be working on people skills. While it's important to have a strong resume, knowing how to be personable when networking and completing interviews has been crucial to my career thus far.
Jenni: Don't be afraid to connect, especially with professionals in your interests!
Fiona: Keep an open mind and let your perspectives be challenged, especially by those who you may not have heard from before.
Learn more about Jackie, Jenni, and Fiona at the Our People section of the website.