Newhallville is a one-square-mile residential New Haven neighborhood that is home to 7,000 residents and has no library, no grocery stores, no community center, and no medical services. Though it is separated from Yale University by just one street and sits next to the popular Farmington Canal trail, until a few years ago, the neighborhood had no park and not one place to sit outdoors. A lot has changed through the leadership and partnership of Doreen Akubakar, Founder and Director of CPEN (Community Place-making Engagement Network).
That progress will be on display on June 11 from 10 am-1 PM, when Newhallville will be home to the second in a series of "All Things Pollinator" events. CPEN and Highstead are collaborating to bring a range of speakers to the event which will feature presentations about ecotype seeds, pollinators, birding, and more at the Urbanscapes Native Plant Nursery, 133 Hazel St., New Haven, CT. The day will also include a native plant sale featuring pollinator-friendly plants grown in the community's new UrbanScapes Native Plant Nursery. The nursery was erected in 2021 through the efforts of Newhalville residents, volunteers, and partner organizations, including Highstead's Operations Director Geordie Elkins and Grounds & Facilities Manager Jesse Hubbard.
A vision of a more vibrant community
When Doreen Akubakar first arrived in Newhallville it was as a parent engagement liaison in the community charged with encouraging more parental involvement in education. What she saw was a neighborhood that was "First or last in everything," says Doreen. "Poverty, crime, and unemployment were among the highest in the city, and the number of businesses was limited to a couple of bodegas." But what she actually saw was an opportunity.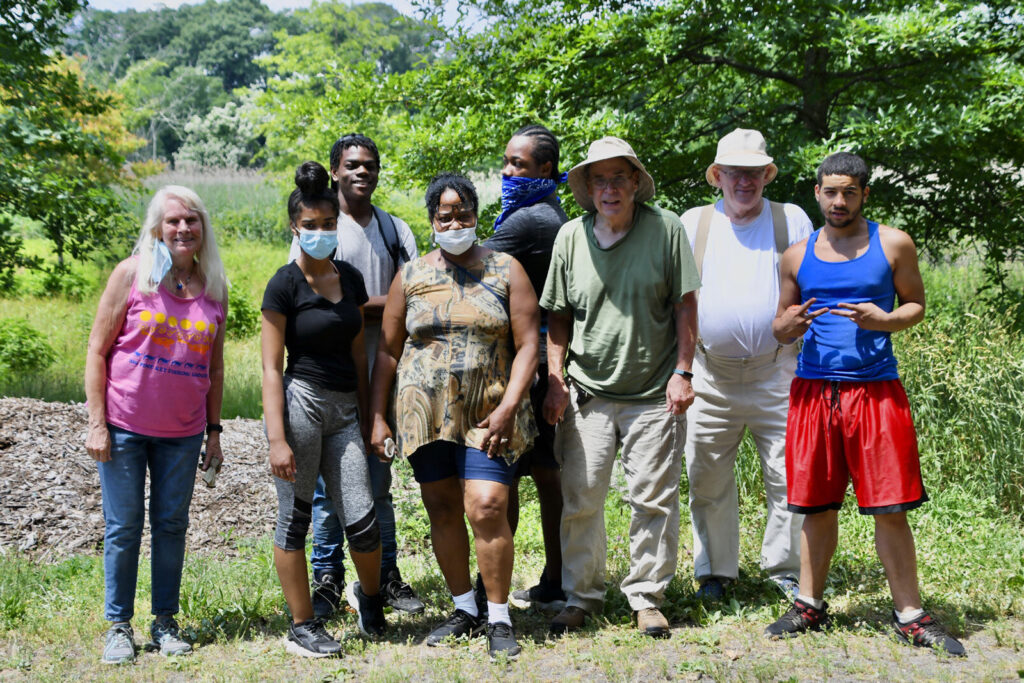 "I'm a visionary," says Doreen. "I can see the potential so clearly. And I've learned to make that vision a reality by inviting in partners that can share in the vision and help make things happen." Her vision included a vibrant outdoor community hub centered on access to green spaces, community, and opportunity. "My career has centered around the environment, and I know that access to the outdoors changed my own life. I thought that we could begin to transform Newhallville's residents by welcoming them to green spaces and building community around those experiences."
She began with small beautification projects and quickly expanded to the creation of a dedicated community park adjacent to the greenway. What was once called the "Mudhole" is now a park and community outdoor space open to all neighbors from March to November. There are youth programs, community breakfasts and bike tours every Saturday, birding programs, and a soon-to-be-launched public Wi-Fi network.
Connecting with neighbors and partners
Key to the success in Newhallville is connection – with community members, partners in New Haven and beyond, and supporters who embrace Doreen's vision. "We hope that people will make the trip to New Haven on June 11 to see the work in action, buy some native plants, or donate to support the All Things Pollinator event," says Geordie Elkins, Highstead Operations Director.
All Things Pollinator
June 11
10 am to 1 pm
UrbanScapes Native Plant Nursery, 133 Hazel St., New Haven, CT.
During the event, the following presentations, displays and information tables will be hosted by CPEN and partners:
Save the Dates
Mark your calendars for these additional events in the series. All will be held at UrbanScapes Native Plant Nursery, 133 Hazel St., New Haven, CT. from 5:30 to 7:00 pm.
July 21st – How to assess a yard for pollinator habitat – Xerxes Society
Aug. 18th – Planting a 4×4 pollinator garden
Sept. 15th – Fall clean-up and seed collecting